Mick Jagger Addicted To Facebook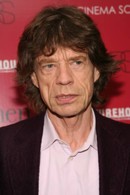 Mick Jagger has overcome his dislike of microblogging sites, admitting he now spends "way too much time" online looking up old friends.

The Rolling Stones frontman revealed last year that he had hired a personal assistant to update his online blogs, because he couldn't keep up with modern technology.

However, Jagger is now an avid user of Facebook.com, and has to force himself to log off to focus on his music.

He tells Britain's Daily Express, "I spend way too much time on the computer and not enough time playing the guitar. There's an underlying problem of this screen life taking over all of your life. It's easy to keep in touch with people, some of whom I wish I'd never kept in touch with."

"But there they are on Facebook."