Michelle Williams Refused To Let Daughter Give Puppy A Stripper Name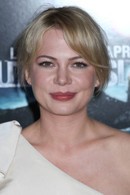 Actress Michelle Williams talked her young daughter out of giving the new family puppy a stripper name because she thought it inappropriate to call a spaniel Crystal or Diamond.

Matilda, the Brokeback Mountain star's daughter by ex-boyfriend Heath Ledger, eventually settled on the name Lucky.

In a taped interview with Ellen DeGeneres, which will air on TV on Friday, Williams says, "Her first ideas... sounded like stripper names. She wanted something like, Crystal, Gem or Diamond."

"At first I was going to be a controlling mom because I was like, 'We can't have a dog named...' Then I was like, 'You know what, let her have it,' but then she finally settled on Lucky, which made me feel very lucky."