Michelle Williams Dating Jason Segel?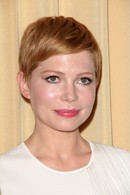 Actress Michelle Williams is dating Jason Segel, according to a report.

Us Weekly has obtained photographs of the blonde beauty strolling hand-in-hand with The Muppets star after a meal at Frankies Spuntino in Brooklyn, New York on Saturday night.

A source says, "He put his arm around her and made her laugh as they walked. (They) seemed very relaxed."

The following day, Segel was snapped looking on affectionately as Williams' daughter Matilda, six, rode on her scooter in Brooklyn.

The magazine also reports the rumored couple dined together in Los Angeles on two separate occasions in recent weeks.

An insider adds, "They are smitten and very serious. She hasn't been this happy in a long time."