Michelle Rodriguez Gets Drunk And Cozies Up With Model Cara Delevingne At Knicks Game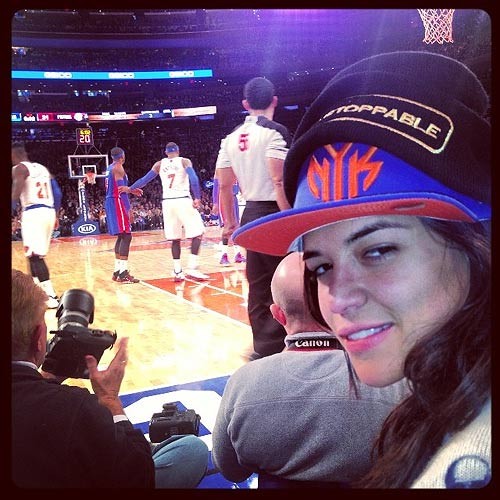 Actress Michelle Rodriguez and British model Cara Delevingne spent their Tuesday night at Madison Square Garden in New York City watching the Knicks take on the Detroit Pistons, and to say that Rodriguez got a little tipsy would be an understatement.

The two stars sat courtside, where Rodriguez appeared completely bombed, barely opening her eyes and at one point appearing to be passed out.

Most eyes were on the game, which ended with the Knicks on top, 89-85, but those not watching the game were in for a show. In fact, some of the folks sitting near the two women didn't look too thrilled (see pics at TMZ).

Michelle, 35, who has claimed she's bisexual in the past, was all over Cara, 21, cuddling up to her and attempting to make out. She even tried licking the smoke rings Cara was blowing from her e-cigarette.

"Cara had to take Michelle's drink away from her during the second half of the game," an witness told Us Weekly. "Michelle was so sloppy, it was embarrassing to watch."

Cara posted two images from the game to her Instagram page on Wednesday, one shoe of Michelle looking well on her way to a good hangover, and another sticking out her tongue with actor Kellan Lutz, who was also at the game.

"Get out the licks for the Knicks," she captioned it.

Cara spent the night before across town in Brooklyn, checking out the Nets game with pal Rihanna.