Michael Trucco: The One To Watch In 2014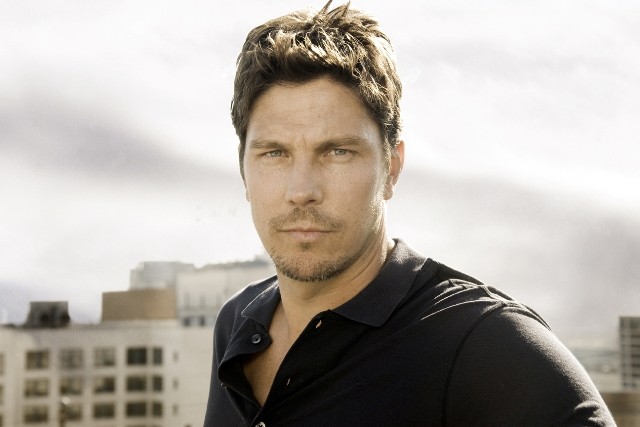 Consistency is an undervalued quantity in show business. There's nothing more gratifying than discovering somebody who's worked hard, role after role and year after year, delivering characters that surpass expectations or break the mold, knowing that you could literally watch anything they've done and be entertained by it. Unless it's that actor finally breaking through and getting noticed for how damn talented they are. Such is the case with our friend Michael Trucco, who's firing on all cylinders to make him our One To Watch in 2014.
Make no mistake about it, Michael didn't just happen. You probably just didn't notice him until his wonderfully nuanced turn as Samuel Anders in Battlestar Galactica. After that show ended in 2009, he then became the best thing about Fairly Legal for two seasons until 2012. And wisely, ABC then snatched him up to play a key supporting role in Killer Women. While we're still mourning the loss of that show, he's already working on another pilot, Sea of Fire. We cannot keep him off television, and that is a very, very good thing.
Killer Women may go down in TV history as a misfire, but you can't say that about Michael's performance as Billy Parker, the brother of Texas Ranger Molly Parker (Tricia Helfer), who had his own drama to deal with. For the first few episodes, Billy was mostly in the background, yet even with limited screen time, we were watching Michael build a complete character. We still grasped that Billy was a devoted father, husband and brother, with his own internal conflicts.
By the time he finally got the spotlight thrown on him near the end of the series, Michael had successfully gotten us invested in the character, to the point where he was the one we were the most worried about, even though he wasn't the star of the show. Billy's concluding arc resonated because we had still come to discover who he was and why we should care. That accomplishment is all the more remarkable when you consider that ABC aired Killer Women out of order, with two episodes missing, including the season finale that gives closure to its cliffhanger.
"I'm sad to see it go," Michael reflected when we connected with him last week. "I think there was a lot of potential, and I think the show was starting to build on it. All of us, and I think a lot of fans included, wish that they would've just aired chronologically all eight episodes. But somewhere, there exist two unseen episodes. That cliffhanger was meant to be succeeded by episode eight."
Whether or not we ever see the rest of Killer Women remains to be seen, but at least we got the best news possible out of its demise - that Michael has landed another project with an equally impressive cast. In Sea of Fire, centered on a wave of scandal in a small town that includes a disappearance and a murder, he'll play Pete Harper, described as a former high school football star who is now a real estate developer. And the cast surrounding him is inspired, including another notable flying just under the radar, Jack Davenport.
"He's fantastic. He classes up the joint," said Michael, before going on to praise the rest of his new colleagues. "Jennifer Carpenter, it goes without saying, coming off one of the best shows on television, Dexter. I've got Jeffrey Nordling, who's just fantastic in everything he does. I'm also working with Lilli Birdsell, who got her start in Pensacola: Wings of Gold."
Better known as the show in which Michael landed his first series regular role, way back in 1998. And he's been one of those dependably good actors ever since.