Michael Trucco Is Getting His 'Revenge'
Revenge is getting even better. In tonight's episode, "Revelations," Michael Trucco officially begins his guest-starring role, after a brief appearance earlier this season.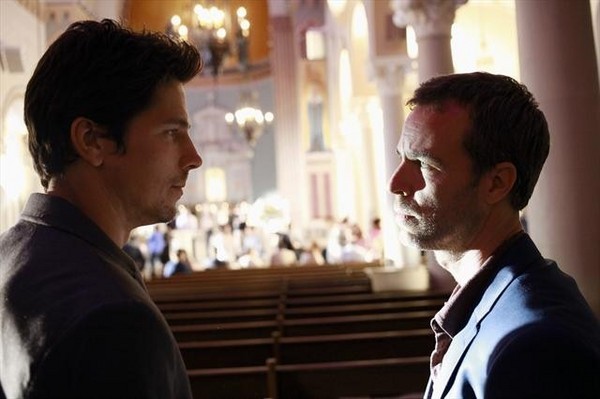 Trucco's character is Nate Ryan, the brother of recurring character Kenny Ryan (JR Bourne, pictured above right with Trucco). Nate is described as "street-smart, charismatic and slightly menacing." It's unknown exactly how long he'll appear on the ABC series, but it's expected to be a significant story arc.
The Revenge role is Trucco's second major guest stint this year. He previously booked a return to How I Met Your Mother in July, and appeared in five installments of the CBS comedy as Nick, Robin's (Cobie Smulders) boyfriend. His final episode, "Splitsville," aired November 12.
It's been a productive year for the talented actor. In addition to the guest appearances, he was also a series regular as Assistant District Attorney Justin Patrick on the USA original series Fairly Legal, which was cancelled by the network in November after two seasons. The role earned him a spot on our list of the 10 Most Underrated Actors and Actresses on television this summer.
For more on Michael Trucco, you can also check out Digital Airwaves' feature and interview from March.
"Revelations" airs tonight at 9 PM ET/PT on ABC.
For more from Brittany Frederick, visit Digital Airwaves and follow me on Twitter (@tvbrittanyf).
(c)2012 Brittany Frederick/Digital Airwaves. Appears at Starpulse with permission. All rights reserved. No reproduction permitted.