Michael Trucco: 'Fairly Legal's' Secret Weapon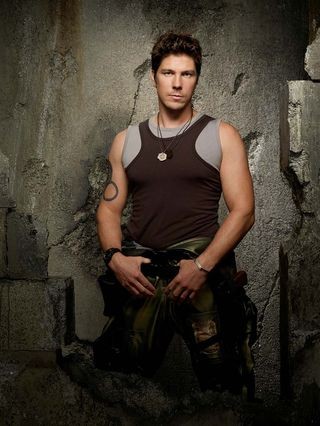 Of course, the biggest role on Trucco's resume remains his portrayal of Samuel Anders on the reimagined Battlestar Galactica. That creates an interesting perception of his new role: not only can Justin win an argument, but it's not hard to think that he could probably also win a physical fight, since he's played by a guy who once helped save the human race.
With a season of Fairly Legal in the books, I asked Trucco what the reaction he'd gotten from the Galactica fans was. Had they embraced him in another role?
"They wanted to know if I'm going to be playing Pyramid," he joked with a laugh, but seriously now: "I respect the die-hard BSG fans who come to a show just because I'm in it, but I wouldn't be so bold as to pretend that people are just going to jump over. You're talking about two different genres. It's a different show. It's a different tone. You couldn't pick two more disparate shows, and that was what kind of inspired me. I wanted to play a character that was something different. I think that's part of the challenge of being an actor."
As we spoke, however, he'd just joined Twitter days earlier, and was pleasantly surprised at "how supportive and how warm the welcome has been. There's a ton of Castle fans, Battlestar, One Tree Hill. I think that there's going to be a good portion of fans that are going to check [Fairly Legal] out."
Going the other way, for the Fairly Legal fans who want to see more of him, Trucco had quite a few suggestions. "I had a blast doing Castle. I came on for the last four episodes of their second season and became good friends with Nathan Fillion from it. [They're] a really incredible bunch of people. From the first episode I was on, I felt completely at home. That's kind of the same feel that I hope we present for Fairly Legal. The fun, the wit, the banter. I'm proud of the work on that. Obviously, Battlestar was a career highlight that has yet to be topped. I consider myself very fortunate to be part of that."
Just don't expect him to be watching his own work. "Everything I do, I watch stuff and I'm all, 'Wow, that was terrible.' I didn't see all the episodes of Fairly Legal last year," he admitted. "It's hard for me to go and look at it. It's hard for me to enjoy the product if I'm in it. It's that quest for perfection. One of the things I watched in the last couple of years, I guest-starred on this show that was under the radar on NBC called 100 Questions. I played this like tattooed biker, and I had a blast. It was a half-hour multi-camera sitcom, and that format usually freaks me out, and of course nobody ever saw it."
(But if you want to, you can: it's on Amazon Instant Video and Hulu Plus.)
What does he watch? You'll probably find his TV tuned to cable. "Storage Wars. I'm obsessed with that. I think that show's hilarious," he told me. And I can't get enough of Gold Rush. That show blows my mind."
And when it comes to scripted television, "For me, the best show on TV is Breaking Bad, hands down. I've never been more impressed with a production. Season in, season out, episode after episode. I can't explain to you, inside the first thirty seconds from the pilot, it's got you hooked. It's interesting, it's confusing, it's mysterious, it's odd right off the bat. Even though we have three guest stars on our show that were from Breaking Bad. We've had Dean Norris, we had Mark Margolis this year, and Betsy Brandt."

"I thought Suits was fantastic," he added, prompting the thought: wouldn't Trucco and Gabriel Macht in the same courtroom be something to see?
But since a USA Network crossover seems highly unlikely, we'll have to make do with more of Trucco on his own, which is more than enough. Whether it's Justin bantering with Kate, or being truly passionate about the justice system in which he works, watching Trucco is one of the highlights of Fairly Legal. As the show begins its second season, here's to hoping even more people take notice of his talent.
My thanks to Michael Trucco for taking the time for this interview! You can follow him on Twitter, and don't miss him when Fairly Legal returns to USA tonight at 9 PM ET/PT.
(c)2012 Brittany Frederick/Digital Airwaves. Appears at Starpulse with permission. All rights reserved. No reproduction permitted.