Michael Trucco: 'Fairly Legal's' Secret Weapon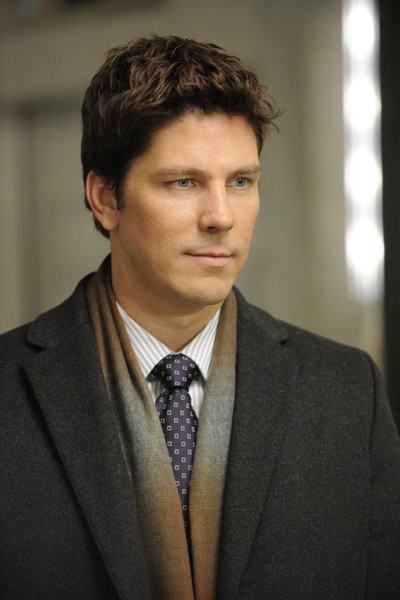 USA's Fairly Legal returns for its second season tonight with one big ace up its sleeve: co-star Michael Trucco.
When is a series regular a secret weapon? When he's doing fantastic work and still playing second chair. Yes, Fairly Legal belongs to the character of Kate Reed (Sarah Shahi), but there's something about her not quite ex-husband that sticks.
As played by Trucco, Justin Patrick is that hard-working, dedicated Assistant District Attorney that you'd want fighting for you in court, and he's also the voice of reason in his complicated relationship with Kate. In a conventional legal drama, he'd be the star, and deservedly so. This is the guy I'd both trust with my prosecution and want to get a cup of coffee with. It's easy to see why Kate can't let him go, because he's memorable.
Justin might not be such an interesting character if not for the casting of Trucco, who brings his own great personality to the part. He's one of those people that's just fun to be around; I still laugh when I think of when we first met, and how he ribbed me for never having seen Battlestar Galactica. With charisma and a positive attitude that makes him impossible not to root for, he's one of those actors I'm glad to see every week, and one of those people I'd love to have a drink with.
For his part, he's glad to have gotten in on the proverbial ground floor. "Interestingly enough, I think this is the first series I've been in from its inception," he told me when we connected recently. "I think just about every show and every character and long-term role that I've played, it's always coming on to a show that's been established. This was the first time that I've experienced what it's like to carry a show from the pilot into a season, and you start to find your legs a bit. That's true probably for most shows and for me, I'm getting more comfortable wearing the character of Justin."
While the show's renewal gave Trucco more time to build Justin's character, it also came with significant changes behind the scenes. "There's been a bit of a paradigm shift, in terms of we have new writers [and] a new showrunner," he explained. "It's always strange to, mid-stream, be changing captains. Michael Sardo was the creator and previous showrunner; there's always a loyalty to that. Because of him, the characters exist. The transition was smooth; I think it was a respectful transition. I think [new showrunner] Peter [Ocko] and the new writing team kept the key elements."
How does he think fans will react to the changeover? "It could go either way," he acknowledged, before pointing out that "we're only twelve episodes in [to the series], so we were still trying to find a rhythm and tone, and for me, I like the change. I like the new energy. I'm really enjoying it." He added that "Nothing major has changed and we pick up where we left off."
With that in mind, what's in store for Justin this season? We'll get to see the one thing that both Trucco and I campaigned for last year: he'll be on the job, and not just in his office. He revealed, "I wanted to see Justin at work, in his element. I wanted to see him in the courtroom and we get that at least once this season, which was great for me."
"This year we delve a little deeper into the characters," he continued. "It's a show about law and mediation in particular, but we're getting a bit more of an exploration of the characters' lives. There are certainly avenues to be explored still. The main thrust of the character [of Justin] is obviously the dynamic between Justin and Kate, this complicated relationship of theirs. I like the fact that the show started with the characters already having a relationship; I thought that was an interesting angle. I like that there's complexities and complications. I think these two have a lot of backstory; I think there's a lot to be discovered. I'd like to see more of that come on screen."