Michael Sweet Quits Boston To Rejoin Stryper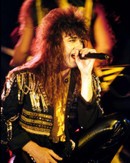 Stryper frontman Michael Sweet has quit legendary rockers Boston.

The singer announced his decision on Wednesday, revealing he wants to dedicate more time to Stryper, the band he co-founded in 1983.

Sweet joined Boston in 2008 and he has spent the last three years splitting his time between the two groups.

He says, "My focus and my loyalty lies with Stryper, the band that I've committed almost 30 years of my life to. The guys in Stryper are my brothers and I'm excited about our future together.

"The music of Boston helped shape who I am as an artist, and the opportunity to be a part of their musical legacy is overwhelming. It's been an honor to share the stage with them, and a bigger honor to call them my friends."

There's no immediate word on who will replace Sweet in Boston.