Michael Strahan Disses Justin Bieber, Plays Catchphrase On 'Tonight Show'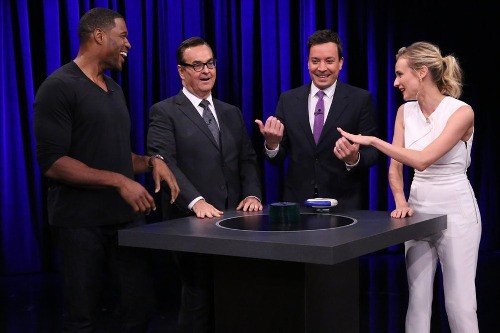 Michael Strahan was on The Tonight Show Starring Jimmy Fallon to talk about his induction to the Football Hall of Fame and his morning show with Kelly Ripa, but he couldn't help but take a dig at Justin Bieber.
When Ripa was on the show last week, she and Jimmy Fallon faced off in a pop quiz game featuring sharpened dunce caps. One of the questions for Jimmy was: "Who holds the record for most quarterback sacks in a single season?" Strahan is the correct answer, but a dumbfounded Jimmy guessed "Justin Bieber."
The former New York Giants player teased Jimmy about his answer before quipping, "Well, he has been arrested more than anyone in the NFL this year." Burn!
Later Strahan played Catchphrase with Jimmy, announcer Steve Higgins, and Diane Kruger. Kruger mentioned she was at a disadvantage because she's German and American phrases by not translate well, but Stragan seemed to struggle more. When Jimmy had the phrase "Silent But Deadly," Jimmy tried to describe a quiet fart to the former football star, who screamed, "I don't fart, man!"
Check out the video to see who ultimately won the latest celebrity game on The Tonight Show.