Michael Phelps Is The Greatest Olympian Of All Time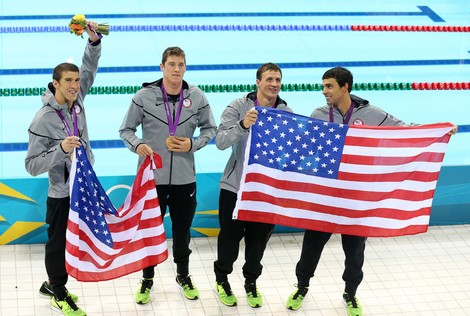 Swimmer Michael Phelps has become the first Olympic contestant to win 19 medals, including 15 gold. He is now the most decorated Olympian athlete, snatching the title from former Soviet gymnast Larisa Latynina, who won 18 medals over the course of her Oympics career. Her record stood for 48 years.
Phelps broke the record on Tuesday night. He competed in the 4x200-meter freestyle relay with his fellow Team U.S.A. stars Ryan Lochte, Conor Dwyer and Ricky Berens.
Phelps swam his way into the record books when the team won the gold, beating France by more than three seconds. China came in third place. Earlier in the day, Phelps got a silver medal in the 4x100-metre freestyle relay.
In response to Phelps' record breaking achieivement, Barack Obama tweeted, "Congrats to Michael Phelps for breaking the all-time Olympic medal record. You've made your country proud. -bo"
But it isn't over yet. The swimmer has three more races, so he could wind up with a total of 22 Olympic medals. The 2012 London Olympics will be his last.