Michael Moore Offers Free Screenings Of 'Capitalism' To Jobless & Homeless

Check out a letter from Michael Moore himself, inviting the jobless and homeless to a free screening of his new documentary,
Capitalism: A Love Story
:
Friends,
We're just one day away from the widest opening I've ever had for any of my movies. Tomorrow, Friday, October 2nd, "Capitalism: A Love Story" opens on over a thousand screens across the United States, a record for an independent documentary.
This follows last weekend's limited opening in New York and L.A. where "Capitalism" set the box office record for the highest per screen average of ANY movie released so far this year. Not just any documentary -- any MOVIE! It was, as the studio said, a good indicator of just how well the movie may do when it goes wide this weekend. I sincerely hope they're right because I believe deeply in this film.
To kick off the national release of "Capitalism: A Love Story," I've asked the studio to offer a number of screenings in the nation's hardest hit cities -- the ones with the highest unemployment rates and highest foreclosure rates -- where those who've lost their jobs or who are in foreclosure (or have already been evicted) may attend my film free of charge. They've agreed, and so tonight (Thursday), the night before our opening day, ten cities will grant you free admission if you have fallen on hard times. The list of theaters and cities is below. You don't need to bring any "proof" of your situation -- just show up -- it's the honor system, no questions asked.
Of course, a free movie ain't much when what you really need is a job or a place to live. And that's not going to change until the party that controls both the Congress and the White House wakes up and realizes the American people put them in charge to fix the mess created by the previous administration. For that to happen requires the active involvement of each of us. And, as I show in this movie, it's going to also require us to challenge some fundamental assumptions about an economic system that currently allows the wealthiest ONE PERCENT in this country to have more financial wealth than the bottom 95% combined. That concentration of money and power in the hands of so few people is, I believe, at the core of so many of our problems.
So, if you're going through tough times and you live in one of the areas below, please be my guest tonight, on the eve of my new film's opening. Seating will be on a first come, first served basis.
Also, in another five cities tonight, I have made the film available to local groups to hold benefit screenings to raise money for their local organizations -- organizations which are working toward a day when a filmmaker doesn't have to offer free screenings to people who've been put through the wringer. If you live in any of these areas (see below for the list of benefit premieres tonight), please come out and support the good work of these grassroots groups.
So, until tomorrow, thanks for your support, and I'll see ya at the movies!
Yours,
Michael Moore
MMFlint@aol.com
MichaelMoore.com
Twitter.com/MMFlint
Facebook.com/MMFlint
MySpace.com/MMFlint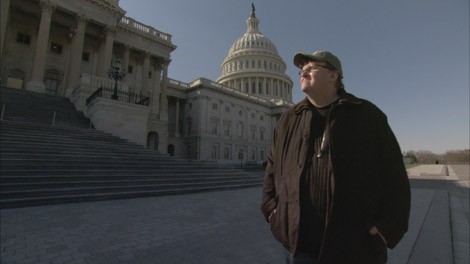 Image © Overture Films
"CAPITALISM: A LOVE STORY" FREE SCREENINGS:
Las Vegas, Nevada
Thursday, Oct. 1st, 7:00 p.m.
Cinemark Orleans
4600 W Tropicana Blvd.
Las Vegas, NV 89103
Phoenix, Arizona
Thursday, Oct.1st, 7:00 p.m.
Harkins Christown
1620 W Monte Bello
Phoenix, AZ 85015
Fresno, California
Thursday, Oct. 1st, 7:30 p.m.
Edwards Stadium
250 Paseo Del Centro
Fresno, CA 93720
Saginaw, Michigan
Thursday, Oct. 1st, 7:00 p.m.
Goodrich Saginaw 8 Theater
3250 Kabobel Dr.
Saginaw, MI 48604
Raleigh/Durham, North Carolina
Thursday, Oct. 1st, 7:30 p.m.
Regal North Hills Stadium 14
4150 Main at North Hills St.
Raleigh, NC 27609
Tampa / St. Petersburg, Florida
Thursday, Oct. 1st, 7:30 p.m.
Muvico Starlight
1800 Highwood Preserve Parkway
Tampa, FL 33647
Elkhart, Indiana
Thursday, Oct. 1st, 7:00 p.m.
Carmike Encore Park 14
2701 Cassopolis Street
Elkhart, IN 46514
Baltimore, Maryland
Thursday, October 1st, 7:30 p.m.
The Charles Theatre
1711 North Charles Street
Baltimore, MD 21201
Cleveland, Ohio Thursday, Oct. 1st, 7:30 p.m.
AMC Westwood Town Center
21653 Center Ridge Road
Rocky River, OH 44116
Peoria, Illinois
Thursday, Oct. 1st, 7:00PM
Willow Knolls 14 Theatre
4100 W Willow Knolls Drive
Peoria, IL 61615