Michael Madsen & David Carradine Star In 'Break'; On DVD July 14

Packed with amazing fight scenes and surprising plot twists, noir thriller
Break
debuts on DVD July 14 from Cinema Epoch. Featuring an ensemble cast of comic book style characters including veteran actors
Michael Madsen
and the late
David Carradine
, this independent film shares the seedy, urban underworld of Frank (Frank Krueger), a detached hit man hired by the city's crime boss to carry out his dying wish. Bonus features include behind-the-scenes featurette, cast interviews and deleted scenes. "Break" had a successful run on the festival circuit, picking up awards for Best Action Film, Best Drama and Best Screenplay.
"Break" is a stylistic noir drama about an introverted hit man, Frank, who is contracted to carry out an unusual job. When the city's crime boss, known only as The Man (
Chad Everett
), discovers that he's terminally ill, he enlists Frank to carry out his own assassination. The Man, selfish and jealous, doesn't want to die alone and makes it clear to Frank that he must also take out the woman he loves. When Frank discovers that The Woman (
Sarah Thompson
) is his own long lost lover, Frank alters the job making himself the next mark. Riddled with dark humor and visual spectacle, an action-packed chain of events ensue as Frank and The Woman take on the enemies set out before them while attempting to free themselves from The Man's jealous grip.
"Break" features an all-star cast including Krueger, Thompson, Everett, Madsen, Mackenzie Firgens, Carradine,
Charles Durning
, Matthew Jones,
James Russo
and martial arts master Xin Sarith Wuku. The film is produced by Joseph Isgro, Dan Michaels, Luca Palanca and Marc Clebanoff and features original music by Peter DiStefano.
DVD Bonus Features:
- Two Trailers
- Behind the Scenes Featurette
- Deleted Scenes
- Cast Interviews
- Still Gallery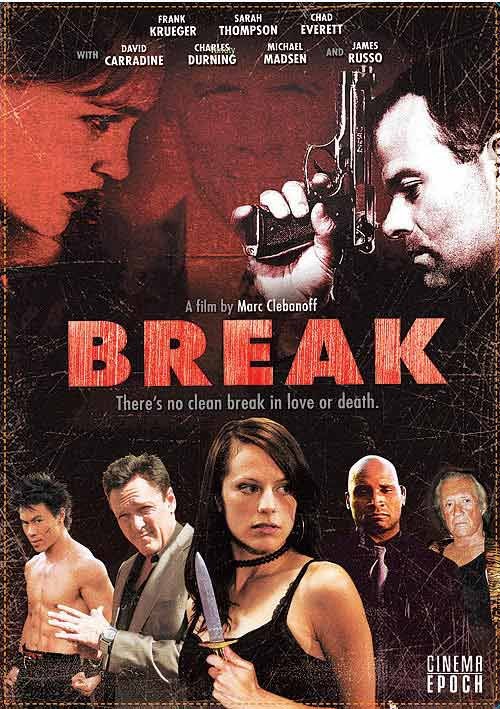 About Cinema Epoch: Cinema Epoch is a Los Angeles-based international sales, production and distribution company formed by distribution veteran Gregory Hatanaka. Over the last 14 years, Hatanaka has overseen and/or been affiliated with the distribution of over 200 films including: John Woo's iconic film "The Killer" starring Chow Yun-Fat; The Coen Brothers' "Blood Simple"; "The Stranger," directed by the legendary Academy Award recipient Satyajit Ray; "South of Heaven, West of Hell" directed/starring Dwight Yoakum, Vince Vaughn, Billy Bob Thornton, Bridget Fonda, "My Favorite Season" starring the legendary Catherine Deneuve and directed by Andre Techine; "Blue Juice" starring Catherine Zeta-Jones and Ewan McGregor; the films of France's Claude Chabrol; the original "Fever Pitch" starring Colin Firth; "Too Tired To Die" starring Oscar winner Mira Sorvino; "Kiss & Tell" with Heather Graham, Rose McGowan and David Arquette; "Portraits Chinois" starring Helena Bonham-Carter; "Bad Manners" starring Oscar nominee David Strathairn; "A Little Bit of Soul" starring Oscar winner Geoffrey Rush, "The Bridge" directed by Gerard Depardieu, "La Separation" starring Isabelle Huppert, Santosh Sivan's "The Terrorist," Abel Ferrara's "R'Xmas," and Leni Riefenstahl's classic "Olympia." Hatanaka also restored and distributed the martial arts milestone film "Master of the Flying Guillotine." With a distribution slate that includes internationally acclaimed arthouse films, contemporary American films and edgy cult & midnight works, Cinema Epoch has been inspired by the great 1970s film distributors World Northal and New World Pictures, who distributed such classic arthouse works as Nicholas Roeg's 'Bad Timing,' 'Fitzcarraldo,' 'Cries and Whispers,' 'Quadrophenia,' and 'The Tin Drum' alongside such great grindhouse flicks such as 'Shogun Assassin,' 'Death Race 2000,' and the kung fu films of the legendary Shaw Brothers Film Studio.