Michael Madsen Charged With Child Endangerment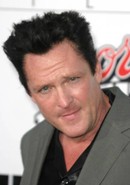 Kill Bill star Michael Madsen was arrested on Friday over allegations of felony child endangerment.

The actor was allegedly embroiled in an altercation with his young son in Malibu, California and taken into custody after cops were called to his home.

Madsen was then booked for child endangerment and held on $100,000 bail.

According to TMZ.com, the child did not need medical attention.

His lawyer Perry Wander claims the fall out came after the star caught his son smoking marijuana.

He says, "(Michael) found his son smoking pot and they got in an argument when he tried to take it away. It's a family matter and Michael asks that his family's privacy be respected."

Madsen has three sons with his third wife Deanna Morgan, and two boys from his previous relationship with Jeannine Bisignano.
*UPDATE* Actor Michael Madsen has been released on bail following his arrest in California on Friday. Madsen spent Friday night behind bars and was released on Saturday after posting $100,000 bail, according to the New York Post.

The actor spoke to reporters as he was released and insisted, "Everything's fine."