Michael Lohan Has Heart Surgery To Fix Broken Heart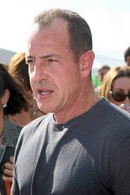 Lindsay Lohan's estranged father has finally undergone life-saving surgery to mend a broken heart.

Doctors were scheduled to operate on Michael Lohan and unclog an artery on Monday, according to TMZ.com.

Lohan was hospitalized on November 24 with high blood pressure and blood clots and he was set to go under the knife on the following day but the surgery was postponed.

According to the reality TV star's spokesman, Lohan is currently undergoing a procedure to "repair a blockage."

Once Lohan is stable, he will return to a court-ordered treatment center and participate in a domestic violence intervention program.

He last underwent heart surgery in February.