Michael Lohan Booked On Fresh Charges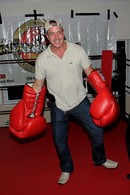 Lindsay Lohan's estranged father Michael has been booked for violating a judge's order demanding he stay away from his ex-girlfriend Kate Major.

Michael Lohan was initially taken into custody last weekend following an incident at Major's Florida apartment.

He was chastised in court on Wednesday, when Judge Walter Heinrich lambasted him for failing to abide by the rules of a domestic violence injunction Major has against the patriarch, and subsequently released on $5,000 bail.

But Lohan fell foul of the law again on Thursday after allegedly attempting to contact his ex and then trying to run from police by jumping off a balcony.

He was hospitalized to receive treatment for an injured foot, but cops opted to book him remotely for the new charges instead of waiting for him to be discharged.

Larry McKinnon, a spokesperson for the Hillsborough County Sheriff's Office, tells Eonline.com, "They did a short version of what would happen inside a jail facility except for fingerprinting and photographs.

"We have deputies guarding him while he's in medical treatment. Once he is released, he'll be brought back to the Orient Road jail in Tampa."

Michael isn't the only Lohan in trouble with authorities - his daughter Lindsay is continuing to serve community service at the Los Angeles County Morgue. The actress must complete four days there before her next probation hearing on November 2.