Michael Keaton Gets Awesomely Meta In 'Birdman' Trailer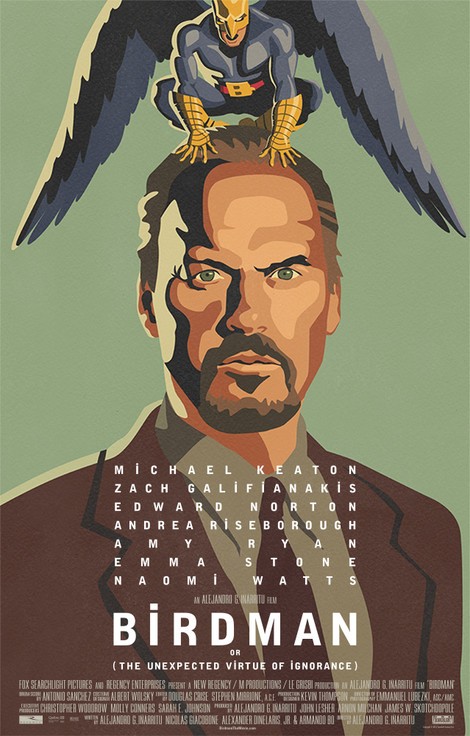 Michael Keaton, a washed-up actor who is famous for playing a superhero, will play a washed-up actor famous for playing a superhero in Birdman.
Alright, so it's not fair to call Michael Keaton "washed-up" - although it's difficult to name a great movie he's starred in from the last two decades. If Birdman lives up to its bizarre trailer, it could spark the return of a great actor (a Beetlejuice sequel would be great, too).
As previously mentioned, Keaton will play Riggan Thomson, an actor famous for playing superhero Birdman. Thomson fights to stay in the business after a not-so-graceful fall from fame and begins producing a Broadway play.
The trailer opens with an awesome tracking show following Riggan as he walks through makeup and to a movie set to the tune of a slowed down "Crazy" by Gnarls Barkley. "How did we end up here?" Riggan growls.
Riggan is going through a mental breakdown and begins seeing giant monsters and explosions – although appears to be contradicted when Emma Stone's character sees something falling from the sky. The actor walks through the street in only underwear, to the pleasure of photographers, as he appears to have completely lost it.
As things ramp up, Riggan may be able to fly, float in mid air, and gets a medical mask that looks a lot like a Birdman mask. What exactly is going on? We probably won't know until the dark comedy hits theaters this October. What we do know is watchinf Edward Norton wrestle Keaton in his underwear is hilarious.
Birdman is directed by Alejandro González Iñárritu, who previously worked on 21 Grams and Babel. It also stars Norton, Zach Galifianakis, Naomi Watts, and Amy Ryan.