Michael Douglas To Be Honored With Dad's Award At Santa Barbara Film Festival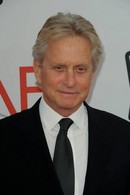 Michael Douglas is to receive the film honor named after his movie legend father at the Santa Barbara International Film Festival in California next month.

The Wall Street star will be honored with the 2011 Kirk Douglas Award for Excellence in Film at a gala dinner on October 13.

Announcing the award he'll hand to his son, Kirk Douglas says, "The first time I saw Michael Douglas act was in a play at UC (University Of California) Santa Barbara, so it is fitting that a career that started here should be honored here.

"To tell the truth, I wanted Michael to be a lawyer. I secretly hoped he would be bad so I could tell him to forget it. He wasn't. But as proud as I am of his achievements on screen, I am even prouder of the humanitarian work he has done for the United Nations and other organizations. I am very happy to give this award to my favorite actor/producer who also happens to be my first-born son."

Previous recipients of the award include John Travolta, Ed Harris, Quentin Tarantino and Harrison Ford.