Michael Cudlitz And Arija Bareikis Of NBC's 'Southland'

The immediate fate of NBC's heralded Thursday night 10 pm slot seems to be in stable, if not extraordinary, hands;
Southland
provides a gripping snapshot of the life of a Los Angeles police officer. The future is more of a mystery considering
Jay Leno's
new show will occupy this and four other weeknight time slots next season.
Michael Cudlitz
(who plays officer John Cooper) and
Arija Bareikis
(Officer Chickie Brown) join us to discuss this topic, their characters, the future of the show and realize the liberties of the Internet once they realize we were not, in fact, broadcasting this interview live on local television as their last few interviews had been.
Mike:
I've always wondered: When you're on a new show, is this kind of the worst part, doing these interviews time and time again?
Michael Cudlitz:
I love it. I love talking about the show.
Arija Bareikis:
He loves talking about himself (laughs).
Michael Cudlitz:
I love talking about Arija (laughs). No, because it's something we feel really strongly about. I think if you talk to anybody from an actor to a salesman, whatever you're doing, if you believe in what you're talking about and what you're trying to sell -- or, in our case, get people to watch -- it's easy. We all feel really strongly about the show and for us as actors, this show is a gift. We just want to share the gift.
Mike:
It probably helps when you really enjoy the project and actually believe in what you're saying.
Arija Bareikis:
Heck yeah.
Michael Cudlitz:
Absolutely. (Laughs) We don't have to lie.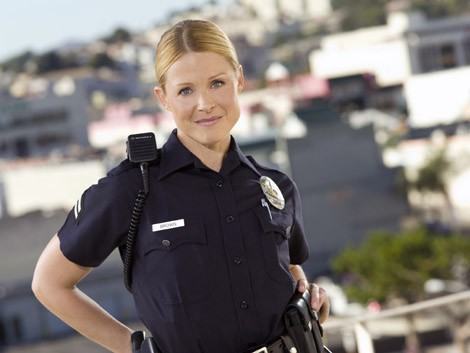 Pictured: Arija Bareikis as Chickie
Mike:
Has either of your opinions changed about L.A. after riding along with the LAPD?
Arija Bareikis:
Well, I'm actually from New York, well, not
from
New York but I've lived in New York for 20 years now. And I've worked and lived in Los Angeles along the years, as well. My opinion of Los Angeles has certainly expanded and my understanding of the job of police officer -- and specifically in L.A. -- has really opened up. It's pretty extraordinary how these people work hard to maintain safety in this city.
Mike:
Right. I'm in New York, too, and think it's great, but I'm sure if I did a ride along with the NYPD, I'd experience some things I've never seen before.
Michael Cudlitz:
I think it's things we've all seen before in the news or on the street but I don't think what they deal with on a day to day basis is an accurate portrayal of what an individual goes through in the city. They're going from crime to crime to crime. Most people don't live their lives like that, I don't think, unless you're a criminal.
Arija Bareikis:
You know what's funny, too, in quickly comparing New York and Los Angeles: Most of the LAPD officers that I had the privilege of riding along with, when I told them I was from New York, they said that they couldn't imagine being a police officer in New York. That it would really wear them out. Maybe it's just being used to the way that L.A. is sort of horizontal, whereas New York is kind of vertical and that kind of scares them. I think being in the car, being on foot, in the way that it is in L.A. is a very different experience. But, for my money, [L.A.] is a lot more scary and dangerous and spread out and dark.
Michael Cudlitz:
I think it's all scary. I'm afraid, I'm very afraid (laughs).
Arija Bareikis:
(Laughs) Don't be afraid.
Michael Cudlitz:
(Laughs) I'm scared. I'm scared right now.
Mike:
I have an individual question about your characters for each of you. I'll go with Michael first. Your character, Officer Cooper, comes off as a bit of a, well, a bit of a dick...
Arija Bareikis:
(Erupts in laughter)
Michael Cudlitz:
Dick? Can you say dick? Are you allowed to say dick?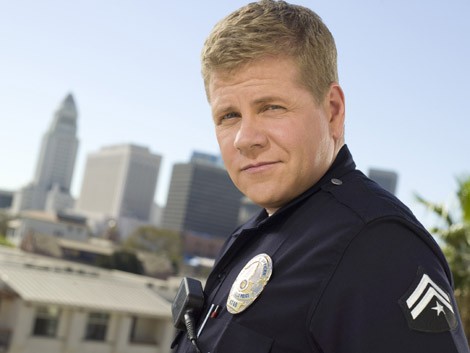 Pictured: Michael Cudlitz as John Cooper
Mike:
Oh yeah, this is on a website, this isn't on the air in Portland or anything.
Michael Cudlitz:
Okay, all right. Well, I've said it three times now, you've only said it once.
Mike:
Well, is
that
attitude his teaching method or is that a personal trait? He's almost a jaded Bull Randleman, your character in
Band of Brothers
.
Michael Cudlitz:
That would be a
very
jaded Bull Randleman (laughs). There's a hardness that comes with being on the job that long and a tolerance for that kind of bullshit, it's not tolerated. The old joke is: I'm not mean, I'm just misunderstood. In some ways I'm misunderstood, but I don't care.
Mike:
Arija, Officer Brown seems to be -- and not in her work, but how she reacts with other officers -- a bit passive. For example how she reacts around Dewey (
C. Thomas Howell
) and the way she advices Sherman (
Benjamin McKenzie
) not to retaliate against Michael's character.
Arija Bareikis:
It's interesting you would describe it that way. Because I would say it's more strong and silent. Taking in the situation, assessing things carefully and putting it out there when it's necessary and when it reaches a critical point. I think you'll see in the next couple of episodes that there are moments when that happens. So, I wouldn't say passive at all...
Mike:
Maybe that was the wrong word to use. She just doesn't seem to fly off the handle.
Arija Bareikis:
Yeah, yeah. She's definitely got a real understanding for when to choose the moment to react and there's a lot of power in stepping back and assessing things and choosing the moments. And by the way: I want to thank you for calling me Officer Brown. Nobody calls me Officer Brown, it's usually just Chickie, so I really appreciate that. I felt very respected.
Mike:
Well, you are very welcome. I really think
Southland
is the perfect post-
ER
type show for that 10 pm Thursday time slot. But, next season, as we all know, the 10 pm slot is not going to exist because of the new Jay Leno show. Have you guys heard anything about where you might move? Can this show work at 9 pm?
Michael Cudlitz:
I think the show can work. If you look right now all of the
Law and Orders
, they're showing
Law and Orders
at 9 pm. There's a lot of room in the schedule. You know, NBC is in flux right now and they're going to run with what the audience wants. And if the audience has responded and says that they want this show, then they're going to go with this show and they can find room for it. I'm not worried about that. We keep doing our job well and we'll be on the air.
Arija Bareikis:
We're ready to do it.

"Mike's Pulse" is a column written by transplanted Midwesterner and current New Yorker Mike Ryan. For any compliments or complaints -- preferably the former -- you may contact Mike directly at miker@starpulse.com
or submit reader questions for celebrites to Mike on
Twitter
.