Michael C. Hall Discusses Revealing His Cancer Diagnosis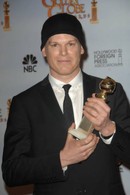 Earlier this year, Michael C. Hall revealed that he'd been diagnosed with Hodgkin's lymphoma. Fans have been showing their support for him, but it became the most personal at San Diego Comic Con. It validated Hall's decision to go public with his treatment.
"It was really gratifying," Hall said at the Showtime/CW/CBS party during the Television Critics Association fall press tour. "When I find out about it I didn't imagine that I would share it at all. I thought that I could just get through the treatment but there came a time when it really made sense to just let it be known that it was something that I was undergoing."
Any worries turned out to be unfounded because the response was overwhelmingly positive. "The collective sense of well wishes and affection and concern that I genuinely felt was a real goose. It really helped me get through the final third of the treatment. I'm very thankful and feel so lucky that contracted something that was as treatable as it was."
Now Hall is back at work on the fifth season of Dexter. "I was thankful that the hiatus managed to coincide with my treatment that we didn't have to miss a beat in terms of our schedule. It's really become a family at this point and it's gratifying to be able to show up on set and realize how across the board everyone is so excited to be back and appreciative of this working environment. It continues to feel good."
Dexter returns this fall on Showtime.