Michael Bolton Used To Be Paula Abdul's Babysitter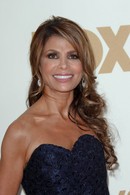 Pop star-turned-TV personality Paula Abdul shamed Michael Bolton for his poor babysitting skills on TV Monday night.

The "Straight Up" singer confirmed reports that Bolton looked after her when she was seven - and her older sister went out with his then-girlfriend, Maureen - and he wasn't the most responsible sitter in the world.

Appearing on late-night show Jimmy Kimmel Live!, Abdul told the host, "I used to get so p**sed off when he'd babysit me because... he'd never help me do my homework; he would only wanna just jam with the rest of the musicians in the building that I lived in."

And his musical ambitions landed the young Abdul in hospital after she had an accident at home, while babysitter Bolton was out.

She recalled, "He went out, I knew he wouldn't be coming back for a while so I ran on my knees on the couch and there was a pencil sticking up in the cushion and I ran over the pencil... It jammed in my leg and he had to take me to the hospital. I still have the scar in my knee... And he was so disinterested. He didn't care."

Bolton then joined the TV chat via SKYPE from his dressing room after a concert in South Dakota, and said, "You're gonna get me in trouble. I'm like the bad babysitter. It was not my job; it was somebody else's responsibility. I'm a musician."

But he insisted Abdul was "adorable", adding, "I don't remember you being that much of a brat."