Mia Farrow Donates Artifacts To The University Of Connecticut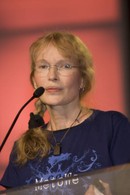 Actress Mia Farrow has donated a number of her personal souvenirs from Sudan to the University of Connecticut to preserve the fading legacy of the war-torn nation's people.
 
The Rosemary's Baby star and avid humanitarian has been a longtime advocate for refugee causes, particularly those affecting women and children in Darfur.

And now Farrow has gifted the school with a pile of videotapes and artifacts from her work in the region. The items will go on display at the Thomas J. Dodd Research Center for those wishing to study the African culture, according to the Associated Press.

The 35-hour video collection documents songs, dances, children's stories, farming methods and other rituals, which are in danger of being lost due to the large loss of life in the area.