'M:I 5' Star Tom Cruise & Director Chris McQuarrie 'Take A Hit For The Team' With Epic ALS Ice Bucket Challenge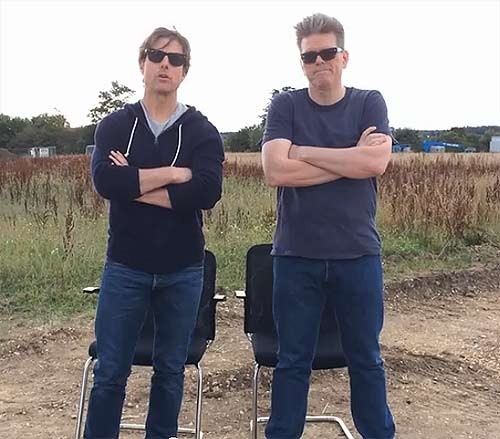 Tom Cruise and the cast of the upcoming Mission: Impossible 5, including director Chris McQuarrie, were nominated for the ALS Ice Bucket Challenge by Hugh Jackman and the cast of Pan, and despite the fact that filming of "M:I 5" hasn't even begun yet, Cruise and McQuarrie decided to accept the challenge anyway.

McQuarrie explained that the film's "entire cast and crew are spread out over three continents" but they didn't want to miss the 24-hour deadline that goes along with the challenge once you've been nominated.

"So Tom and I are here to 'take a hit for the team,'" McQuarrie added.

"Chris and I are also making donations on behalf of every member of our cast & crew," Cruise added, "that were lucky enough not to be here today."

The two were then drenched as bucket after bucket of ice cold water was dumped over their heads.

Jackman issued the challenge along with co-stars Rooney Mara, Levi Miller and Garrett Hedlund, from the set of "Pan," where that film's entire cast and crew gathered to take part in the stunt.

It's all for a great cause -- to raise money for ALS research and to raise awareness of the terrible disease.

Check out both videos below.