Metallica's Kirk Hammett To Launch San Francisco Horror Festival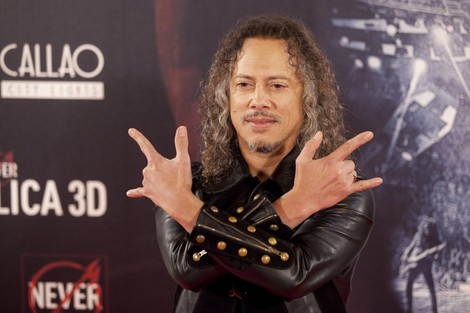 Kirk Hammett has turned his collection of horror film memorabilia into the basis for a gory new festival.

The Metallica star will launch Fear FestEvil in San Francisco on Thursday after freaking fans out with his haul of movie props and costumes at Metallica's Orion Festival events.

The Kirk's Crypt exhibits became such a hit that he showed off his odd collection in the book Too Much Horror Business in 2012, and now he's teaming up with a few famous faces to scare up a storm at the Regency Ballroom over the weekend.

On display will be full-size figures of Frankenstein's Monster and Dracula and original props from the film Bride of Frankenstein, while guests at the first Fear FestEvil will include fellow rocker and horror buff Slash and Carrie actress P.J. Soles, as well as filmmakers and special effects gurus.

Hammett has also booked heavy metal icons Carcass to perform, telling Revolver, "For us to get Carcass, I'm just so psyched to even be able to make that happen, and it brings the convention up another level."