Metallica's 3D Film To Debut On IMAX Next Fall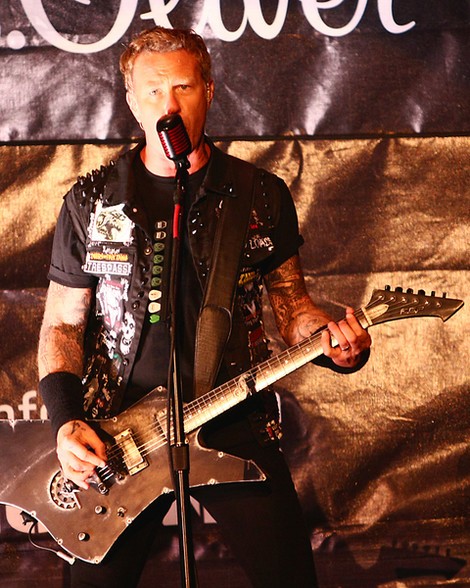 Metallica's upcoming movie will be released next fall. The band's upcoming 3D film, "Metallica Through The Never" will hit IMAX theaters first (Sept. 27) before being released in traditional theaters.
The film centers on a crew member (Dane DeHaan), who "is sent out on a mission during Metallica's roaring live set in front of a sold-out arena." The film follows two story lines, DeHaan's scripted narrative along with the band's concert, which intertwine.
The group issued the following statement about the film: "If you've been following along, you know that we're pretty damn excited about the upcoming release of our 3D film, Metallica Through the Never. Today we have big news as the movie goes extreme next level with IMAX! Starting September 27, 2013 our movie will be shown exclusively on EVERY single screen in EVERY single IMAX theatre in North America for a full week. That's over 300 theatres that we'll be unleashing Through The Never to... an IMAX first! There really is no better way than this to experience film and promises to amount to an unprecedented and very unique visit to the movies.Don't have an IMAX theatre nearby? No problem! The movie will roll into additional theatres in full 3D one week later on October 4.
"In the meantime we're editing and putting the finishing touches on the film, so keep watching here for many more details, photos, and video clips from our live extravaganza filmed last summer in Vancouver. With so many of you playing a very important role on those nights, we are anxious to begin to share it all with you very soon and we'll see you in the theatres this Fall!"

Lars Ulrich told NPR: "There's no secret there are parts of Metallica's career that have been quite theatrical, of the different live experiences that we've had. And so we thought that we would give some of those theatrical presentations a kind of 2012 upgrade, especially for a bunch of our fans who were very, very young who have only heard about what happened in the '80s and '90s."
Metallica formed in 1981 in Los Angeles, Calif. Their albums include "Kill 'Em All," "...And Justice For All," and "Load" and "Reload."