Metallica, Jeff Beck, Run DMC Headline 2009 Rock and Roll HOF Inductee Class

It took all of 27 years to happen, but as they say 'there is no time like the present,' as perhaps the most recognizable of rock acts,
Metallica
, are taking their rightful spot in the Rock and Roll Hall of Fame. The band, alongside hop-hop visionaries
Run DMC
, headlines the 2009 class of inductees to the monument of rock. As for performers, the rest of the class shakes out like this, former Yardbirds axeman
Jeff Beck
, famed singer/songwriter
Bobby Womack
and doo-wop group
Little Anthony and the Imperials
.
In the Early Influence category, Wanda Jackson will be inducted and in the Sidemen Category, the inductees are Bill Black, DJ Fontana and Spooner Oldham.
It has been a longtime coming for Metallica. The Los Angeles based quartet has endured their share of hardships, but have persevered in order to sell 51,136,000 copies in the US alone. But even with all of their success to date, isn't their induction into the Hall a bit premature? Not because they don't deserve it but because they are far from being done musically? Vocalist
James Hetfield
said himself that he thinks the honor might be a bit too early and went onto say that bands like
Deep Purple
,
Thin Lizzy
,
Kiss
,
Ted Nugent
,
Judas Priest
,
Motorhead
and
Rush
should have graced the Hall before them.
Still, there is no argument that the Bay Area boys rightfully deserve this honor.
They have released nine studio albums, two live albums and two EPs, have won nine Grammys, and have had five consecutive albums debut at number one on the Billboard 200, making them the only band ever to do so. Their 1991 self titled black album alone has sold over 15 million copies in the United States and 22 million copies worldwide, which makes it the 25th-highest-selling album in the country.
Also deserving of the Hall of Fame honor is Jeff Beck. Beck has received countless accolades throughout his long and tenured career, including four Grammy Awards and being ranked number 14 on Rolling Stone's '100 Greatest Guitarists of All Time.' Throughout his career Beck has released 14 proper studio albums, four live albums and two 'Best Of' compilations. Beck is also recently credited with contributing guitars to
Morrissey's
recent 'Years of Refusal' record.
Ironically enough as well, Beck had the opportunity to join
The Rolling Stones
in 1975 and
Pink Floyd
as well.
And what can be said about Run DMC that hasn't already been said? These guys, DJ Run, DMC and Jam-Master Jay, are legends in every sense of the word. These guys were pioneers in the hip-hip/rap game throughout the 1980's through today and are also pioneers when it comes to the entire rap-rock fusion movement because of their collaboration with
Aerosmith
for 'Walk This Way.' They received their share of impressive accolades through the years, including a #1 R&B charting rap album, becoming the first major rap act to appear on American Bandstand, chart in the Top 40 of the Billboard Hot 100 more than once, chart a top-10 pop charting rap album, achieve gold, platinum, and multi-platinum albums, appear on the cover of Rolling Stone magazine and receive a Grammy Award nomination. That is a lot of firsts.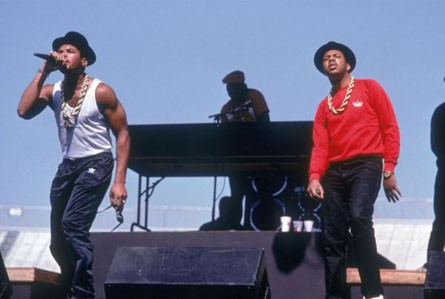 They were fittingly the first ever hip-hip group played on MTV and now are the second hip-hop ground inducted into the Hall of Fame.
It is truly an honor to be welcomed into the Hall of Fame and all of these artists truly deserve the honor. There is one thing for sure; the Rock and Roll Hall of Fame is a better place with these artists gracing their halls.
Story by
Brian Campbell
Starpulse contributing writer