Metallica Drops New Single; 'Death Magnetic' Out Sept. 12

Metallica
have just released the first single off their upcoming album,
Death Magnetic
. The epic track is entitled "The Day That Never Comes" and it's now available through
iTunes
. The band recently filmed a video for the track with Danish film director Thomas Vinterberg, which is set to premiere soon. Check out the track, which is now streaming on
Metallica.com
.
News about
Death Magnetic
has been flowing out of Metallica's camp via the band's official website (
www.metallica.com
) and a brand-new site,
missionmetallica.com
, which offers users a unique, ground-breaking look-in on the making of the album, with producer
Rick Rubin
. Fans who can't wait for the September 12th release date will be able to purchase a digital-edition version of the album, to be delivered at midnight on release day, by joining the free site, which launched on May 29th.
Missionmetallica.com
features a treasure trove of exclusive content, including the low-down from the band members themselves about their progress in the studio via fly-on-the-wall video footage, live concerts downloads, exclusive new and never-before-seen archival photos from the studio, contests to fly to foreign lands to see the band perform and much much more.
Metallica are currently finishing up the mixing and mastering of
Death Magnetic
. The cover art and full-track-listing (below) have been posted at
missionmetallica.com
, where fans can purchase the album plus web content in various configurations. Users should continue to check the site for the chance to win tickets and meet-and-greet passes to Metallica's live concert events this summer. Upcoming dates include headlining slots at Ozzfest on August 8th in Dallas, TX and at England's Leeds and Reading festivals later this month.
Death Magnetic
is Metallica's first studio album since 2003's multi-platinum
St. Anger
, which hit No. 1 in 30 countries and has sold nearly six million copies worldwide. Formed in Los Angeles in 1981 by drummer
Lars Ulrich
and guitarist and vocalist
James Hetfield
, Metallica has become one of the most influential and commercially successful rock bands in history, having sold 100 million albums worldwide and playing to millions of fans the world over. They have garnered numerous awards and accolades, including seven Grammy Awards, two American Music Awards, and multiple MTV Video Music Awards. In addition, their 1991 album, Metallica, which has sold 15 million copies in the United States, has been awarded the prestigious "Diamond Award" from the Recording Industry Association of America, given to those albums with U.S. sales of 10 million or more.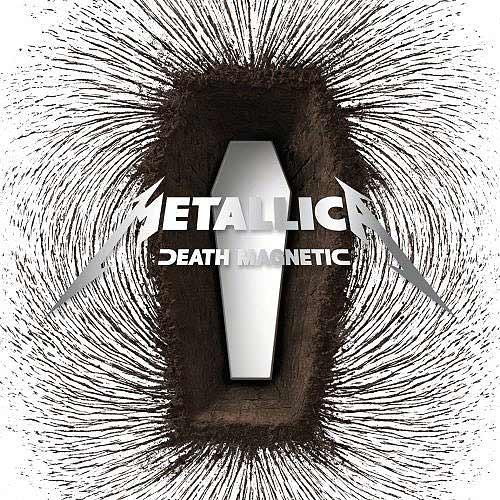 Track Listing:
1. That Was Just Your Life
2. End of the Line
3. Broken, Beat & Scarred
4. Day That Never Comes
5. All Nightmare Long
6. Cyanide
7. Unforgiven III
8. Judas Kiss
9. Suicide & Redemption
10. My Apocalypse
"The Day That Never Comes" is available through
iTunes
now.
More Metallica:
-
Ringtones
-
Discography/Reviews
Click the pics for gallery & larger images: