Metallica Concert Organizers Arrested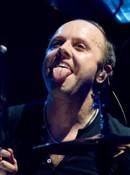 organizers of a scrapped Metallica show in India have reportedly been arrested over allegations they oversold tickets to the gig.

The rock group called off a planned concert at the Leisure Valley Park in Gurgaon on Friday, putting the cancellation down to "technical problems" and safety concerns after fans pushed through a barricade.

Reports have now emerged suggesting four of the organizers behind the show, including Rajesh Chandwani, operational head of event management company the DNA Entertainment Network, have been detained by police on suspicion of breach of trust, according to Ndtv.com.

The website reports police are investigating allegations organizers sold more tickets than could be accommodated by the venue and ticketholders were not informed prior to the cancellation.

Gurgaon Police Commissioner S.S. Deshwal tells the website, "The organizers have to say why they cancelled (the show). They have to explain. They have cancelled it without taking the district administration into confidence."