Meryl Streep Takes Oscar To Women's Conference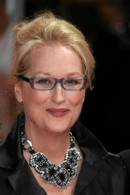 Meryl Streep took her Best Actress Oscar to a conference in New York on Saturday for her star turn introducing Secretary of State Hillary Clinton.

The actress won her third Academy Award last month for playing former U.K. Prime Minister Margaret Thatcher in The Iron Lady and she took the statuette with her when she attended the Women in the World Summit in Manhattan.

Streep took to the stage to introduce Clinton and placed the golden trophy on the podium as she told the crowd, "This is what you get when you play a world leader. But if you want a real world leader, and you're really, really lucky, this is what you get... I am an actress. And she is the real deal."

Clinton then joked, "We do, unfortunately, throughout our lives as girls and women, often cast an appraising eye. I'm just glad (Streep) didn't do a movie called The Devil Wears Pantsuits!"