Meryl Streep Says 'It Was A Privilege' To Play Margaret Thatcher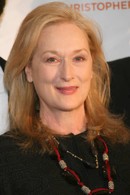 Meryl Streep is proud of her portrayal of former British leader Margaret Thatcher in new movie The Iron Lady, branding the role a "privilege" to play.

The Hollywood actress tackles the part of the U.K.'s first female prime minister and even attended sessions at London's Houses of Parliament earlier this year to help prepare for the shoot.

Streep admits the role was grueling, but insists her effort was worth it.

She tells Britain's Daily Mail, "It took a lot out of me, but it was a privilege to play her, it really was. It was one of those rare, rare films where I was grateful to be an actor and grateful for the privilege of being able to look at a life deeply with empathy.

"There's no greater joy."