Meow! Taylor Swift Dresses Up As A Tiger For Dianna Agron's B-Day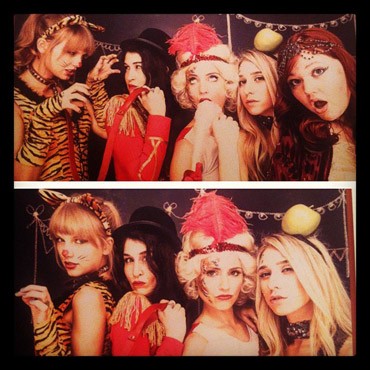 American sweetheart Taylor Swift looks good no matter what she wears, so it's no surprise that the photos she tweeted of herself dressed up like a tiger at a circus-themed party have created a stir.
Swift attended good friend and Glee star Dianna Agron's birthday party, where guests dressed up as various circus characters. Swift wore a tiger stripe top, headband, and drawn-on whiskers. Agron got glam-y in a trapeze artist outfit, and some other pals looked great as the ringleader and, er, a woman with an apple on her head (we assume she's a target for an archer or knife thrower).
Taylor has been very busy on Instagram lately, also sharing a collage of photos with a good friend and her experience cooking salmon.