'Memphis Beat' Canceled Over Poor Ratings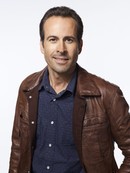 TV bosses in America have cancelled Jason Lee's cop drama Memphis Beat after just two seasons.

The show, which stars My Name Is Earl actor Lee as a police detective in Memphis, Tennessee, drew four million viewers when it debuted on the TNT network last year.

However, the program's ratings plummeted when the second season kicked off in June, and TV chiefs have decided not to bring it back for a third run, according to Variety.com.