'Melrose Place': Where Are They Now?

Sixteen years ago we were first introduced to
Melrose Place
, an innocent (at least it started that way) spin-off of
Beverly Hills, 90210
that took place in a West Hollywood apartment complex. I know as an 8-year-old boy I was excited to see what the lives of 20-something people would be like. I assumed lots of swimming and talking about art. I was wrong, so very very wrong. Seeing as the show ended its run almost 10 years ago we should look back and see just where those over-sexed and off-kilter roommates have gone. Now I can relate to what the show was about!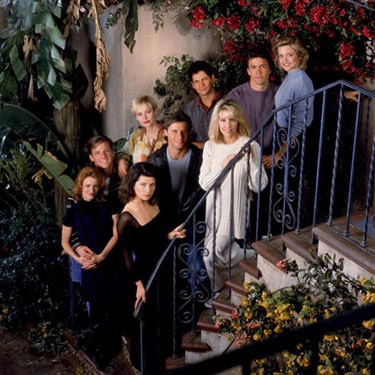 Thomas Calabro
(Dr. Michael Mancini)
The only cast member to last throughout the show's entire run, Calabro has followed up his stay at "Melrose place" with roles in such classic films as
Ice Spiders
and "'Til Lies Do Us Part." He's guest starred on
Cold Case
and
Nip/Tuck
, though. That's something, right?
Josie Bissett
(Jane Andrews Mancini)
TV movies became Bissett's bread and butter, although she is presumably still married to fellow cast member
Rob Estes
. Don't ask him about it though, he has a different story
Andrew Shue
(Billy Campbell)
He's the brother of actress
Elisabeth Shue
. Aside from a role in 2007's
Gracie
, Shue has shied away from the camera (by choice) and runs ClubMom, an organization dedicated to supporting mothers.

Courtney Thorne-Smith
(Allison Parker)
Smith has continued acting since leaving "Melrose Place," spending 5 years on
Ally McBeal
before joining the "hit" show
According to Jim
as Cheryl, the titular characters unreasonably hot wife.

Grant Show
(Jake Hanson)
Going the guest star route, Show has appeared on
Six Feet Under
,
Strong Medicine
, and
Dirt
, with a short stay in
Point Pleasant
. He did appear in the play "Wit" with
Judith Light
, who is on
Ugly Betty
with
Eric Mabius
who was in
Cruel Intentions
with
Sarah Michelle Gellar
, who guest starred on
Sex and the City
with
Sarah Jessica Parker
who was in
Footloose
with
Kevin Bacon
!

Doug Savant
(Matt Fielding)
You know that huge hit show called
Desperate Housewives
? Savant plays Tom, husband to Lynette, father of a pack of demon hellspawn.

Daphne Zuniga
(Jo Reynolds)
She scored the lead in "Beautiful People," not that anyone watched the show. Though a season on
American Dreams
didn't hurt her career, or her decision to reprise her role as Princess Vespa in "Spaceballs: The Animated Series." You've got to give her props for embracing her past!

Vanessa Williams
(Rhonda Blair)
No, not that
Vanessa Williams
, this Vanessa Williams left "Melrose" Place after a little over a season and went on to star on
Murder One
and four seasons on
Soul Food
along with several TV movies. She seems to be working a bit more steadily than most of her cast mates, I guess it pays to leave a show early.

Marcia Cross
(Dr. Kimberly Shaw Mancini)
Dude that girl was crazy on "Melrose Place" with her wig and the scars and the being a freaking nut bag! Good thing she cleaned up her act and got a bit part on "Desperate Housewives" as Bree Hodge, Wisteria Lane's best hostess with a knack for attracting strange men.

Laura Leighton
(Sydney Andrews)
After "Melrose Place," Leighton went to "90210" and played an entirely different character. Since then she's been seen on
Tru Calling
,
Eyes
,
Shark
,
Law & Order SVU
and
Boston Legal
. Whatever pays the bills, right?

Heather Locklear
(Amanda Woodward)
Aside from her personal life which seems to involve
Denise Richards
and man stealing, Locklear was welcomed onto
Spin City
for three seasons, after which she stared on the short-lived
LAX
. A guest spot on
Two and a Half Men
probably seemed like a good idea at the time, but her marriage would say otherwise. She continues to show up every now and then teaming with former costar
William Shatner
on "Boston Legal" for two episodes. She'll be back, though. She always comes back.

Jack Wagner
(Dr. Peter Burns)
Starred in the failed nighttime soap Titans with the future Captain Jack Harkness, John Barrowman. Luckily he found a new home on
The Bold and the Beautiful
where he has been since 2003. He confirmed he was dating Heather Locklear last fall.

Kristin Davis
(Brooke Armstrong)
Nothing, she did absolutely nothing since "Melrose Place." I don't know what
Sex and the City
is, but I'm sure it wasn't anything popular. I sure won't be first in line to see a movie version of it with Davis as the adorable Charlotte. Nope, I'm all man!
Rob Estes
(Kyle McBride)
I bet you can guess what he's been up to. Guest starred on "Suddenly Susan," "Law and Order: SVU" and
CSI: Miami
. Apparently he filed for divorce with Josie Bisset, but that was in 2006 and nobody seems to know anything past that. How long do divorces take?

Lisa Rinna
(Taylor McBride)
SoapTalk,
Days of our Lives
,
Dancing with the Stars
, even a stint on
Veronica Mars
. She seems like such a nice girl, and with red carpet hosting duties for TVguide, she is never off camera for very long.

Kelly Rutherford
(Megan Lewis Mancini)
Well, looks like someone has herself a spot on a popular show. Rutherford is currently being seen in
Gossip Girl
on the CW, which places her ahead of 80% of this list of people.

David Charvet
(Craig Field)
He left
Baywatch
to do "Melose Place." Then he left "Melrose Place" to become a singer. Side note, his world is apparently made up of Europe, much like
David Hasselhoff's
!

Alyssa Milano
(Jennifer Mancini)
Milano had a career before "Melrose Place" and continued to have one after. Thanks in small part to her time as Phoebe Halliwell on
Charmed
. With a reoccurring guest spot on
My Name is Earl
, Alyssa seems to be doing well for herself.
Shannen Doherty
, that's how you stay in the spotlight!

Linden Ashby
(Dr. Brett 'Coop' Cooper)
Going from nightime soap to daytime soap, Ashby spent 55 episodes as Cameron Kirsten on
Y&R
before moving to made for cable TV movies, the place where all actors go to die. He was in
Resident Evil: Extinction
, and he had a southern accent. It didn't work out too well for him.

Rena Sofer
(Eve Cleary)
If you're a producer looking to get your show canceled, hire Rena Sofer. She manages to jump onboard sinking ships like the latest seasons of
Just Shoot Me
, the trainwreck that was the U.S.
Coupling
, and
Blind Justice
, which was about the blind cop. Though she has redeemed herself with guest spots on
24
and
Heroes
, so good for you Rena!
Story by
Dan Chruscinski
Starpulse contributing writer