'Melrose Place' Recap: Series Premiere

The series premiere of
Melrose Place
takes us through a chic Hollywood hotspot filled with texts and tweets and pretty young things, drawing in an expected 2.3 million viewers. Who's to say these viewers were satisfied? Now that is a whole other story.
Introducing the world to the newly revamped 4616 Melrose Place, producers caught audience's attention with murder, blackmail, prostitution and lesbians; and that's only in the first episode!
The storyline had its quirks, but this sexy cast definitely made up for that. Colin Egglesfield,
Michael Rady
, Shawn Sipos,
Ashlee Simpson-Wentz
,
Katie Cassidy
and
Jessica Lucas
proved to be some of the tastiest eye candy on The-CW. Now lets take a look at one of the show's hottest characters.
Meet Ella Sims, Melrose Place's very own bi-sexual bitch. This fashion savvy publicist will do anything to get what she wants or who she wants, as we found out from last night's premiere. Her passive love interest for hunky, un-available Jonah Hill was anything but submissive.
Sorry to say, but the last three minutes of the premiere were indeed the finest.
Filled with sex, scandals and secrets, Melrose Place will sure take a turnaround in up-coming episodes. I have a feeling this season won't disappoint us.
Cast? Sexy. Plot? Could use some adjustments.
Overall grade: B-
Either way, I am hooked; prime-time has never been this good-looking.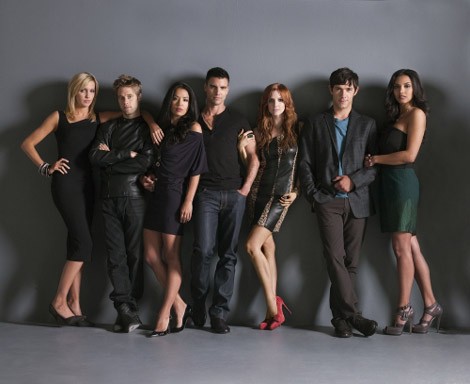 Image © The CW Television Network
Story by
Vanessa Mujica
Starpulse contributing writer