Melissa McCarthy's ELLE Magazine Cover -- What's The Big Deal?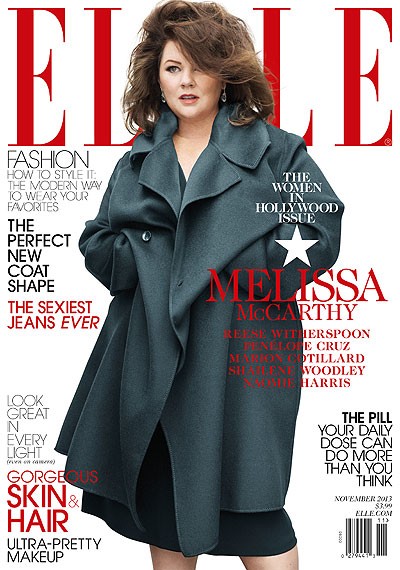 Call us clairvoyant, but last week when we first saw the six new covers of November's issue of ELLE magazine -- the 'Women In Hollywood' issue -- we had a hunch that people would soon be freaking out over Melissa McCarthy's cover.

The new issue features six different covers, including Reese Witherspoon in a little black cocktail dress; up-and-comer Shailene Woodley showing some leg in a swimsuit; Naomie Harris in a long, midriff-baring black dress; a close-up of Penelope Cruz's beautiful face; Marion Cotillard in a sports bra... and Melissa McCarthy with wind-swept hair in a heavy coat.

The cover of the magazine caused many to call out ELLE, accusing them of purposefully trying to conceal McCarthy's fuller figure by hiding it in a big coat.

But editors at ELLE have defended their choice.

"We were thrilled to put Melissa McCarthy on one of the November covers of our annual Women in Hollywood issue," the magazine's editors wrote in a message addressing the cover on its official site. "The actress looks stunning—like she just stepped off the set of a film noir: smoky eyes, her hair falling down over one eye just-so, and that super luxe Marina Rinaldi cashmere coat."

Even McCarthy doesn't have a problem with the photo. Her rep told ABC's Good Morning America that she "loves the cover" and "even picked out the coat" herself.

"On all of our shoots, our stylists work with the stars to choose pieces they feel good in, and this is no different: Melissa loved this look, and is gorgeous on our cover," the magazine continued in its defense. "We are thrilled to honor her as one of our Women in Hollywood this year."

We knew people would freak over the cover -- after all, America has become a land of whiners and politically correct, oversensitive crybabies, where virtually nothing can be done anymore without offending someone.
We think she looks great.