Melissa Joan Hart : 'Feed A Child With Just Four Clicks' (Video)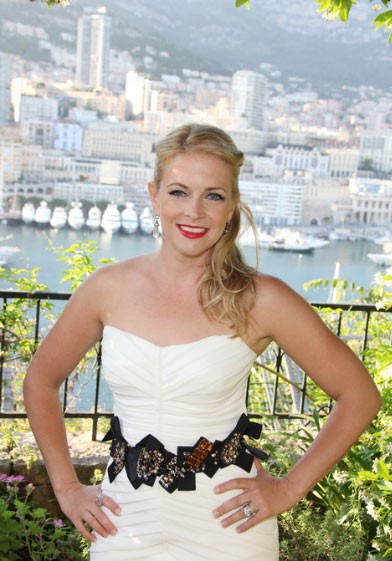 Melissa Joan Hart is the type of A-list celebrity who truly cares about doing something positive. We had a chance to talk with her about her affiliation with Beech-Nut's "A Jar for a Jar" virtual donation drive, and it's obvious that this famous actress and mother of two is deeply committed to making a difference in the lives of hungry children. "Right now in the U.S., one in four children are waking up hungry," she explained during our interview, "and that's just unacceptable." The video of our interview with Hart is available below.
Beech-Nut, a company well known for its all-natural baby food and children's products, has partnered with the Feed the Children organization to deliver jars of baby food to children who desperately need a nourishing meal. The best part: You can contribute to this virtual donation drive simply by following these four quick, incredibly easy steps:
1.)  Visit Beech-Nut's official Fan Page (http://www.facebook.com/BeechNut) and click "Like."
2.)  Click on the "A Jar for a Jar" link in the left-hand menu, beneath the Wall link.
3.)  Click the "Share a jar NOW" button next to the Jars Shared running total.
4.)  Publish the post on your wall, so that your friends and family can see the information.
It's that simple, and Beech-Nut will donate one jar of baby food for every jar which is shared virtually—up to one million. As of June 16th, over 6,000 jars had already been shared. The entire process literally takes only a few seconds of your time, and you can share the post multiple times to donate as many jars as you like. If you no longer want to subscribe to the Fan Page after sharing your virtual jar, it takes only one click to "Unlike" and unsubscribe.
During the interview, Melissa Joan Hart shared with us the details about her day with Beech-Nut handing out baby food and other supplies to over 400 families in need. "It was heartbreaking but heartwarming at the same time," she recalled, "to know that we were helping out. But also to see these little faces that are suffering right now in the country—so close by, too—and just to see their little faces and to know that at least today they're going to be full, but what happens tomorrow?" According to Feed the Children, one in five households struggle to provide enough food for their families, and 10% of U.S. households have limited resources and often have inadequate food supplies.
Over the last twenty years Beech-Nut has been partnered with Feed the Children, and now the company has made it 100% free for you to donate food to a child in need with only a few moments of your time and a couple clicks of your mouse. "Everyone is on Facebook all day anyway, so they might as well jump over to Beech-Nut's page and do something good," Hart pointed out. As the oldest of eight children, and the mother of two young boys, it was obvious during our conversation that this cause has touched her on a personal level.
You can learn more about Beech-Nut's virtual donation drive, their affiliation with Feed the Children, and Melissa Joan Hart's part in the virtual drive on the A Jar for a Jar section of their Fan Page. You can watch Hart on ABC's hit TV show "Melissa & Joey," which returns with all-new episodes for season 3 on June 29th, and you can also follow the actress' verified Twitter account at @MellyJHart.