Melissa George Opens Up About 'Lovely' Russell Simmons Romance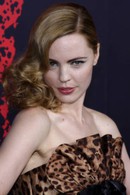 Australian actress Melissa George has confirmed she is dating veteran hip-hop mogul Russell Simmons following months of speculation.

The Def Jam Records co-founder, 53, was spotted out and about with the 35-year-old beauty several times over the summer, sparking gossip about a possible romance, but they have both remained coy over their relationship status until now.

George has opened up about Simmons in an interview with Australia's Herald Sun, and when asked whether they are in a relationship, the actress answers, "Yes".

She adds, "It's just, you know, fun... so much fun. I can't stop smiling. For what it's worth, whatever is going on, and it's been a while now, it's absolutely lovely."