Melanie Martinez Talks Working With Adam Levine on 'The Voice'
Team Adam's Melanie Martinez impressed the panel with her battle round performance on last week's ​The Voice​ - and recently, she spoke about working with her Grammy-winning coach, Adam Levine.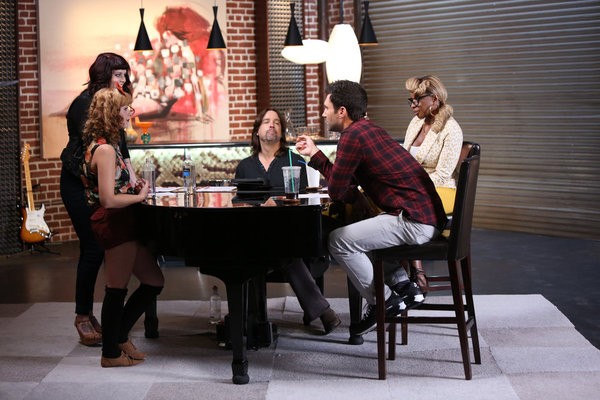 "I think that I've really grown as an artist, being on his team. He's given me some great advice and I gained a lot of confidence, even though we haven't had as much time because the show works fast," Melanie (pictured above front left, with - from left - teammate Caitlin Michele, Voice bandleader Paul Mirkovich, Levine and advisor Mary J. Blige during rehearsal) said. "Everybody talks about how he's really great. He's a great coach. I definitely think I picked the right coach."
New York native Melanie defeated Caitlin Michele after their battle version of "Lights" by Ellie Goulding. She'll next be seen in the knockout rounds airing in a few weeks, while Caitlin was stolen by coach Cee Lo Green and is now a member of Team Cee Lo.
The award-winning front man of Maroon 5, Levine is in his third season coaching on The Voice, and it was recently announced that he will continue coaching for the show's fourth cycle. He is also making his acting debut in the premiere episode of FX's American Horror Story: Asylum, which premieres this Thursday, October 17.
Also in the interview, Melanie talked about her experience so far on the hit NBC singing competition and whether or not winning is all that matters to her. For the full interview with Melanie, ​click here​ to visit Big Red Chairs. ​The Voice​ continues its battle rounds tonight at 8 PM ET/PT on NBC.
(c)2012 Brittany Frederick/Big Red Chairs. Exclusive to Big Red Chairs; excerpt appears at Starpulse with permission. No reproduction permitted. All rights reserved.