Mekhi Phifer Tells Us The Truth About 'Lie To Me'

Mekhi Phifer
went straight from the end of
ER
to join the cast of
Lie to Me
. You saw him in the season premiere as special agent Ben Reynolds from the FBI. Now that the Lightman group helped his judge pass the vetting process, he's going to be on board for future cases.
"The FBI has required their services for all their top priority cases and I kind of came along with that package," Phifer said. "From bombings to kidnappings, I know the next episode we have a big Vegas episode. We're dealing with poker players and the World Series of Poker. The stories just never end."
As the latest addition to the cast, Reynolds might have to catch up in the lie detection game. "Being that I just joined the Lightman group, that's something that'll probably happen over time, learning their techniques and the thing that they do and how to detect if people are lying. That's probably going to be part of the arc. I think I have a different way of getting at the truth. Their technique is so specific. I have probably innate street smarts but at the same time, through your FBI training, they train you to interrogate and find out truths the way the FBI does it. It's definitely a unique experience for my character to be with the Lightman group and learn their techniques."
A tough guy like Reynolds might not have the patience for characters like Eli Loker, the Lightman group's comic relief. "I think he just looks at Loker right now as a little bit of a joker. He's kind of the sarcastic scientist nerd kind of guy. That's the way my character looks at him because he's mainly in the Lightman group and dealing with a lot of the technical aspects of things. I'm more of a get out on the street kind of guy."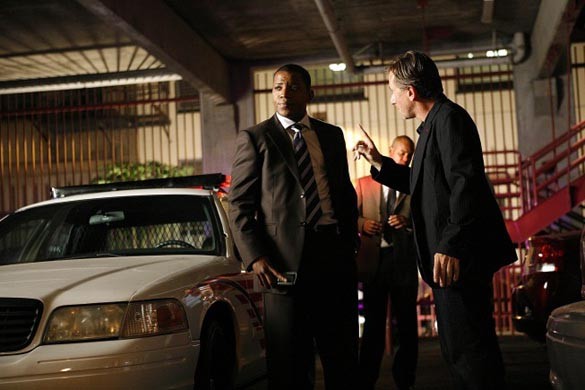 Lightman (Tim Roth, R) pushes Agent Reynolds (Mekhi Phifer, L) and the FBI to follow his lead © Isabella Vosmikova/FOX
You may know Phifer best from the
Eminem
song "Lose Yourself" from the movie
8 Mile
, in which the two costarred. Eminem sings, "There's no movie, there's no Mekhi Phifer." Now there's no TV without Mekhi Phifer.
"You'd like to think so," Phifer laughed. "I'm just glad people appreciate my work and allow me to display my talents and have a lot of fun doing it. It's a great gig."
By the way, if you invite Phifer to your party, don't play that song in his honor. "I remember when it first came out, every time I would go into a club or something they would play it. Everyone's standing there looking at me. I'm like, 'Enough already.' It was a great song and we had a great time on that film."
Lie to Me airs Monday nights on Fox.
Story/Interview by
Fred Topel
Starpulse contributing writer
(Starpulse in Hollywood)
: Every week, Hollywood's biggest stars are meeting in the hot spots and Starpulse is there.