Megan Fox Works Out In Yoga Pants On 'Teenage Mutant Ninja Turtles' Set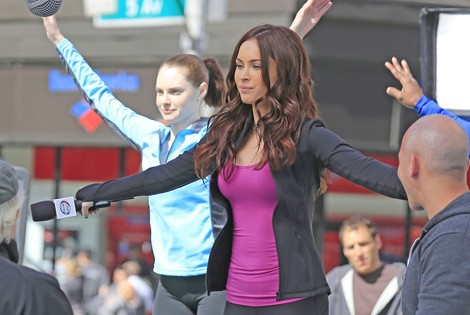 Photographers have captured the first look at the Teenage Mutant Ninja Turtles' ally April O'Neil, played by Megan Fox, from the set of the film.
In the photos, Fox is clad in yoga pants and tight pink top, apparently doing some soft news for Channel 6. She also has thick makeup (we're not sure if this is on purpose), red-tinged hair, and some ankle weights.
As photographers captured the scene, Fox jumped on a trampoline and started doing jumping jacks. Either this is just a scene to deliver eye candy, or some insight into why April O'Neil is getting fed up with her news reporting gig.
The live-action remake of the beloved children's series is being produced by Michael Bay, who made Megan Fox a star with her sexy role in the Transformers series... so we're going with the first possibility, for now.
More photos of Megan from the set on the next pages.