Megan Fox Sexes Up Cosmopolitan Cover; Talks Tattoos & Her Soul Mate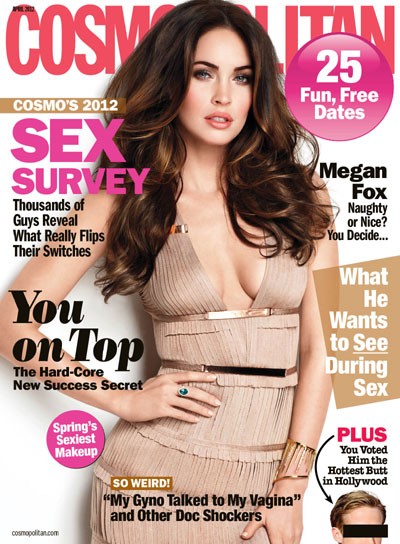 Megan Fox shows off her sexy figure on the cover of Cosmopolitan's latest issue. The actress appears in several upcoming films, including "Friends With Kids," "The Dictator" and "Fathom."
Addressing her tough-girl image she told the magazine, "It's because I have tattoos and I say curse words, and apparently, that's crazy. I think maybe I give off this energy of seeming like I don't give a f#$%, and that's misinterpreted. But I'm not wild."
She recently told Jay Leno that her procedure to erase a Marilyn Monroe tattoo was difficult: "It's dramatic and it's incredibly painful. They can't numb it enough to make the pain go away."

She also talked to Cosmopolitan about her first meeting with now-husband Brian Austin Green:  "I didn't know who he was, since I was too young for 'Beverly Hills 90210.' But the first time I saw him, I got butterflies. And the first time he casually touched me? There was so much electricity."

She continued, "We've had obstacles, and we've overcome them. I truly feel like he's my soul mate. I don't want to sound corny or cliché, but I do believe we are destined to live this part of our lives together."
Read more at www.cosmopolitan.com. The April issue hits newsstands on Tuesday, March 6.