Megan Fox Is Stunning In New MetroCity Handbag Ads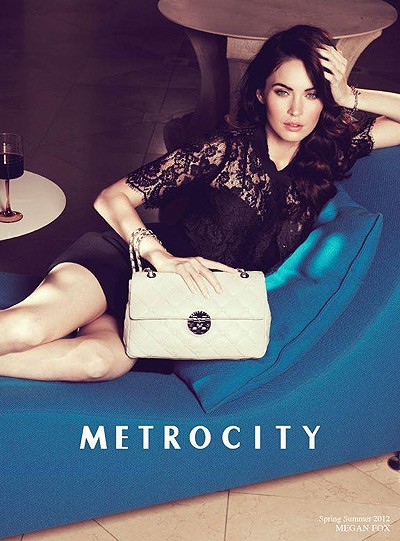 Megan Fox has landed a job as the face of luxury handbag brand MetroCity and shows off her sexy curves in the company's latest ad campaign for the Italian bags, which are produced in South Korea.

The Jonah Hex star is no stranger to showing off her looks in foreign ads - she recently did one for a Brazilian language school called 'Megan Fox Island', where an island full of Megan Fox clones welcomes its first two males with open arms, only to find that they don't speak any English (see it below). Megan is also the face of Emporio Armani and the designer's cosmetics line (see her gorgeous new pics for the brand on page 2).

Megan's fill career has somewhat fizzled since that ugly breakup with the Transformers franchise and she found herself replaced by Rosie Huntington-Whiteley for the third film in the series; however she will be appearing in a few films due later this year: This Is Forty, Friends With Kids, and in a cameo as herself in Sacha Baron Cohen's The Dictator.
We have to admit, as soon as we read the brand name 'MetroCity' all we could think of is pronouncing it like MegaMind.