Megan Fox Gets Sexy In Thigh-High Stockings For Sharper Image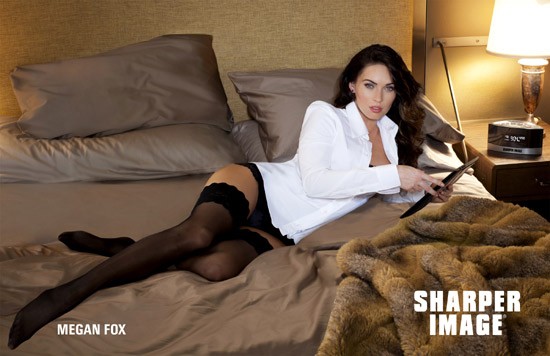 Megan Fox is the new face of tech product company Sharper Image. In a new promotional image the actress poses on a bed wearing black thigh-high stockings and a white button-down shirt. She appears to be holding on to an iPad.
The actress is rumored to be pregnant with her first child, but neither she nor her husband Brian Austin Green have commented on the speculation.
She recently starred in "Friends With Kids" and has several films in production, including "This Is 40" and "The Dictator." The actress claims she fell back in love with acting thanks to her cameo appearance in "The Dictator" because it gave her the chance to break away from her "sexy, icy image."
She jumped in popularity after appearing in the 2007 blockbuster "Transformers."
Fox's first Sharper Image campaign will debut later this year.