Megan Fox Challenges Jimmy Fallon To Pictionary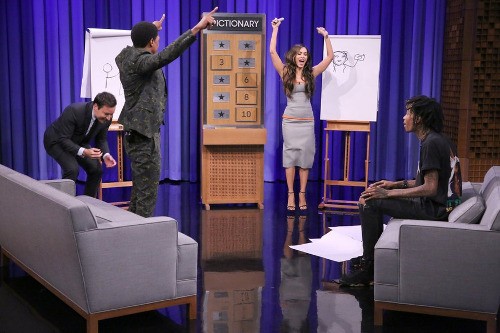 Megan Fox was ready to take on Tonight Show host Jimmy Fallon in a game of celebrity Pictionary – it's just too bad she couldn't remember what a frog looks like.
Fox and Fallon were joined by Nick Cannon, who paired up with Fox, and Wiz Khalifa, who was on Jimmy's team. For the first drawing, the Teenage Mutant Ninja Turtles actress had to draw the phrase "frog in your throat." While she was able to portray a throat, she claimed "I don't remember what they look like" when she had to draw a frog. It's too bad she didn't star in Teenage Mutant Ninja Frogs, then.
Jimmy got the much more esoteric "Puppeteer" for his drawing, but Wiz Khalifa was able to guess it correctly. The Jimmy/Wiz team was riding high (no pun intended) but the final round, when points are multiplied by 50, was looming.
Check out the two funny videos to see which celebrity team was able to outdraw the other.