Megan Eliminated On 'American Idol' - Thoughts?

Why write a coherent recap of
American Idol
when we can ramble? If they don't want to produce a watchable show, why should I produce a readable column?
So Alexis Grace is in the audience next to Jason Castro. Are they dating? C'mon, I can sing off-key too! Of course, I'll never have that hair.
Just realized that statement could be taken to mean I have a crush on either Jason or Alexis. I'll leave it ambiguous.
It's funny that the audience doesn't even care enough about
Kara
to boo her when she asks. Maybe they already assume she's been fired.
Here's what gets
Paula
enthusiastic: Delivering confidence with conviction. In other words, things that make no sense really get Paula's blood boiling.
Ford Fusion music videos are the reason why DVRs have fast forward.
No
Randy
on the bass for the
Journey
musical number? He played on the frigging original recording! Their lackluster performance only proved that no Idol should every try to sing
Steve Perry
.
Do you think when Ricky Minor closes his eyes for a guitar solo he's thinking to himself "Oh my God you are such a sell out. Remember when you wanted to be a real musician? Why don't you just jump off this balcony?"
Another reason for DVR fast-forwarding - montages where the Idols talk about how great their lives are at this point.
If Allison didn't just earn points for that boffo Danny Gokey impression, then America has no sense of humor.
Let's put this on the record. There's nothing lamer than somebody wearing a suit and trying to make it look rock and roll with some ratty hair, a few punk rock accessories and a loosened tie. Wear a suit or dress like an indie rocker, don't try to do both at the same time.
David Cook
ended up like a weird cross between
Phil Collins
and
Johnny Rzeznik
with a song more boring than an episode of "I Get That A Lot".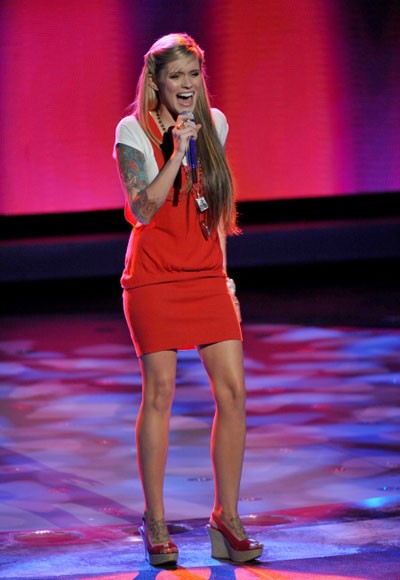 So what exactly was the point of dividing the Idols into groups of three if one trio is not the bottom three? Was it just a way to fill the hour? Oh wait, that's the entire results show!
So there is absolutely no way Matt could have thought he
Ryan
was telling him he was safe by his saying, "You will again have to take a seat." No way in the world.
Megan's condor impression will not be beat for weirdest moment on Idol this season, and possibly not get beat for weirdest moment on live TV this year. It would take something involving
Michael Jackson
and Andy Dick to beat that.
Bottom three prediction batting average .667. Allison was a total shock, but in retrospect her performance was forgettable enough that she shouldn't have been.
I have absolutely no idea who
Lady Gaga
is, but she seems to have traveled back in time from the year 2555 to steal
Amy Winehouse
's act.
I feel like I'm just reviewing this song, but those lyrics are truly awful. A poker theme? Is it still 2003?
As much as that song was. . .peculiar. . .that performance incredibly entertaining. Nice to see somebody actually try to take advantage of TV's biggest stage rather than just trotting themselves out like a human jukebox.
Wow,
Simon
really brought the venom tonight. Telling Megan he doesn't care. Saying there's only one person worth saving. Truly angry Simon is so much better than faux-angry Simon.
And now that Megan's gone, we're down to eight contestants, all with a chance to win. Let's rank their chances shall we?
1 (Last week's Rank: 1) Adam Lambert
No matter what Lambert does the judges seem to fawn over him. He's definitely the most unique competitor on the show and is likely to earn more buzz than anybody else. He's potentially Sanjaya with talent - a cocktail that should spell victory.
2 (2) Danny Gokey
It's clear the audience loves him, and the judges continue to shower him with praise. There's no reason to think Gokey doesn't have what it takes to win, but it's hard to give him the top spot when he's clearly still searching for a comfort zone onstage and is secretly repeating the same performance each week. He'll need to mix it up a bit to vault past Lambert.
3 (6) Kris Allen
This week, Allen showed that he's more than just a Jason Mraz clone with an almost reinvention of himself into a Ben Folds-lyte type figure. He's the fastest riser on this list and will challenge for the top if he continues to show such versatility and an ability to make songs his own.
4 (3) Allison Iraheta
Now that Megan's gone she'll have at least half the female vote to carry her towards the finals. It's very hard for someone so young to win the competition because eventually their inexperience will best their talent. She seems even more ready to win than Archuleta did, however, and poised to break the curse. Hard to say this without reservation though after all those trips to the bottom three.
5 (5) Lil Rounds
No movement for Rounds this week as she is starting to get boring. She's never repeated the house-shattering brilliance of her Mary J. Blige cover that made her the early favorite. Now she's whipping out safe performance after safe performance showing nothing more than an ability to be a karaoke world champion. She'll need to become a more complete performer for a chance to win.
6 (4) Matt Giraud
Giraud is falling fast and it's incredibly surprising. He sat at number two on this list a week ago and now is in danger of leaving with each new results show. Who didn't think he was in the bottom three after Seacrest's comment? It's puzzling because he's clearly the most talented performer in the finals, but just doesn't seem to be connecting with the audience.
7 (8) Scott MacIntyre
A great performance this week showed he's capable of actually winning the competition. The danger for MacIntyre is that he simply isn't as good a singer as many of the top contenders, leaving the slimmest margin of error. He'll need to be at his absolute best each week just to survive.
8 (7) Anoop Desai
Anoop showed his vulnerability this week with a very amateurish performance. When he's bad, he's really bad. It just doesn't seem possible that he can be on top of his game every week. If he slips again he's likely out.
Now that Megan is gone, who should go next? Who should win? Let us know in the comments!
Story by
Andrew Payne
Starpulse contributing writer