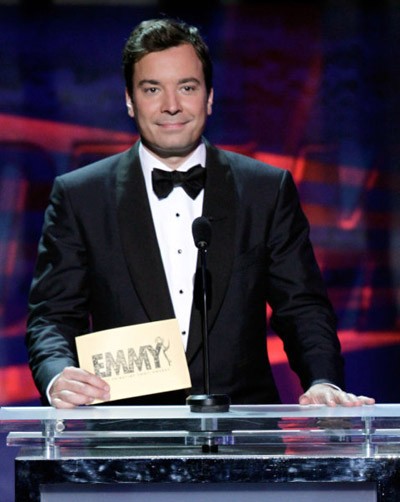 It's Emmy time again, kids. And you know what that means: Mega Emmy Diary time.
Now this is something of special ceremony in my estimation as it is so chock full of new nominees (four alone in each comedic supporting category!) that we're likely to see some surprises and some truly touched performers break through.
So, without further ado, let's see what Jimmy Fallon can do...
5:00 – We start with a backstage shot – one of my favorite things about the Emmys has always been when the person directing the show wins and we get a look at the show being put together as it happens. So, needless to say, I enjoyed even that tiny look.
5:01 – I was going to say how odd it was for an Emmy show on NBC to do a "Glee"-themed opening when they could have taken that opportunity to hype up one of their shows, but then I realized they don't have a single show that anybody would care about.
5:03 – "Born to Run" – a surprisingly solid arrangement. The music on "Glee" slipped noticeably in the last few episodes. This would have been one of their better numbers. Not sure if that's a good or bad thing.
5:05 – Seeing Jimmy Fallon out there with his Telecaster and Bruce outfit screaming in front of an auditorium is one of the most high school talent show moments I've seen on television this side of "Idol". It seems like Jimmy's been responsible for several such moments over the years.
5:07 – Yes it was cheap. Yes it was easy. But yes, the shot of Conan in this opening made me laugh audibly. Will NBC's pathetic handling of their late night situation ever cease being funny.
5:08 – And that, would be the end of the opening. 8 minutes in and we're on to a montage introducing the first category. I could get used to this.
5:09 – Wow, I haven't watched "Two and a Half Men" in five years, but now that I see they have a gag featuring Jon Cryer growing extra facial hair like a "Weekly World News" freak I…feel very confident in that decision.
5:11 – I now believe every montage should now end with a clip of Larry David awkwardly trying to kiss a woman in a wheelchair. It's what we need.
5:12 – So Eric Stonestreet may have almost been left out of the nominees list at the beginning, but he gets revenge immediately with his first Emmy. He mentions his dream of being a clown, and that certainly helped him immensely here: His superb "Fizbo" was the episode he submitted for this award.
5:14 – And Stonestreet also seems very tough to beat for best acceptance speech – classy and touching.
5:18 – And yes, John Hodgeman is back mocking the winners as they claim their statuettes. The best thing about the Emmys? It has a sense of humor about itself.
5:19 – Twitter presenter introductions? Just when you thought between-awards patter couldn't get any more dull we turn to Twitter and get to feel our brains die of boredom. And isn't this a something of a WGA violation?
5:20 – Since the Creative Arts Emmy shakeup robbed us of the always-brilliant way the variety show writers introduce themselves, I'm just so happy we get to at least let the sitcom writers have a bit of a goof. Best bit? Kay Cannon attempting to act sexy, though it was all sparkling.
5:20 – That's dos-for-dos for "Modern Family" meaning it's already looking pretty invincible for the top prize.
5:23 – Not to get political or anything, but maybe it's not the best idea for Stephen Colbert to come out and mock comediennes' ability when he famously employs only one female writer on his show.
5:24 – Wait? Wha? Y'mean Jane Lynch won this award? Oh…it's probably because she was the biggest breakout character on any show all year. Yeah, that usually does it.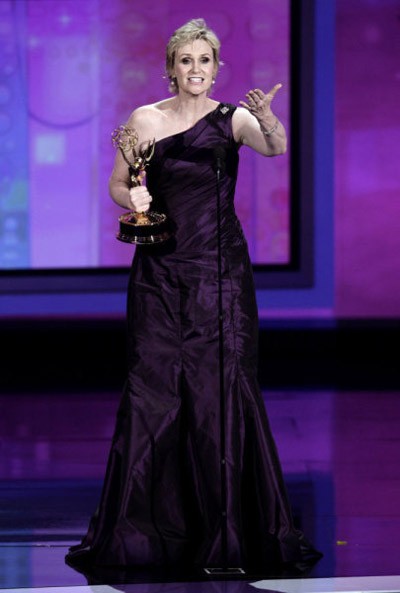 5:31 – What was that game Jimmy Fallon just played? Six Degrees of Lame Joke?
5:31 – Another gay guy? What? Is that some sort of Chandler burn?
5:33 – That was not on the same level as the writers montage, but I appreciate another directors montage. At least they didn't say, "Another gay guy." for no reason whatsoever.
5:34 – Now "Glee" goes back-to-back meaning it's already looking pretty invincible for the top prize.
5:35 – I have to say, for a prolific and creative guy like Ryan Murphy I accepted much more than a deadpan finger painting reference in the speech. Nerves methinks.
5:37 – Saw the Clooney gay out coming a mile away, but that was still a solid little piece. And I totally can picture a world in which George Clooney wears a suit to bed.
5:38 – At this point I should point out that I'm only 1-for-3 with my predictions and the only one I got right was a major lock in Lynch. Here Parsons pulls the mild upset and continues to make me look like a fool. Damn you, Parsons. Damn you! Also, looks like the "30 Rock" love affair is over, as its biggest stalwart goes home (or stays home) empty-handed.
5:44 – Another "another gay guy" joke? Is that the catchphrase from this evening? At least that joke sounded like a joke.
5:45 – Oh, don't look so shocked, Edie! That's your fourth Emmy. Fourth. The Emmys looooove Edie. She also becomes the first actress to win both Outstanding Actress in a Drama and Outstanding Actress in a Comedy. Big stuff.
5:47 – Wow. So even 30 seconds of Kim Kardashian is far far too much. That's some new TV math with which everyone can agree.
5:48 – I'll take this moment to point something out that I feel needs massive discussion and hasn't gotten nearly enough play – the existence of Scott Disick, the father of Kourteney Kardashian's baby. I've seen five minutes of that television show, and that brief viewing experience happened to be dominated by Mr. Disick who couldn't be more like a cartoon character if he was voiced by Mel Blanc. I mean, this man actually is Patrick Bateman from "American Psycho" in real life. I implore everyone to spend a few televised minutes with him, just because he must be seen to be believed. And if you've had a similar Disick experience, please describe it in the comments.
5:50 – Oh my my my, the King is dead! After winning this category literally every single solitary year it's been around, "The Amazing Race" finally loses to everyone's favorite bit of food porn. And everybody involved is justifiably shocked. It just seems weird not seeing a confident Jerry Bruckheimer strolling to the stage at this point.
5:57 – And that, it seems, was it for the reality category. Thanks for playing, guys.
5:58 – I've only heard tales of that ludicrous "Grey's Anatomy" finale, and now that I've seen a clip from it I'm wondering why this isn't submitted in the comedy category.
6:00 – I enjoyed dividing that drama montage up by show, because we got to see which series the audience seems to favor based on cheers. And the winner, I do believe, was "Breaking Bad" with "Lost" very close behind. Is it upset time?
6:02 – Or maybe not as Weiner wins yet another Emmy in the writing category. I'm not sure how "Breaking Bad" didn't get nominated in this category, but here we are. "Shut the Door, Have a Seat" is an excellent choice, however.
6:04 – I changed my prediction exactly 27 seconds after the nominees were announced because those cheers for Aaron Paul were deafening. Finally, Paul gets the recognition he so richly deserves for an otherworldly performance. Way to get it right, Emmys!
6:09 – Oh boy! More Emmy tweets. How exactly did something not get chosen to be read on the air?
6:11 – This was the tightest race in all the major categories and, of course, we end up with one of the more surprising winners. In retrospect, it's not much a surprise – this was the breakout character in the expansive supporting cast of a very popular show.
6:13 – Geez, when they read off those list of nominees, it really seems like they should figure out a way to split the Emmy six ways. These are all winning performance, absolute winning performances. Of course, Cranston triumphs over them all because he just keeps doing the best work on the best drama series on television. Isn't it amazing that just a few years ago James Spader kept winning this thing? Where were these other five nominees then? It seems so unfair, but here we are. An embarrassment of riches to be certain.
6:20 – While I'm very glad that John Lithgow won for destroying it on "Dexter" I can't help but feel it was something of a booby prize. I mean, this was one of the best performances of all times across any medium and it only gets a scant Guest Actor prize? Doesn't seem right.
6:22 – Hey! "Dexter" wins a major Emmy. That's…surprising. And, of course, we have to have that moment interrupted with a graphic telling us we're only 17 minutes away from George Clooney. Oh boy Oh boy Oh boy!
6:26 – Really dug the departed shows song montage. If there's one thing Jimmy Fallon does well, it's impressions. If there's one thing.
6:30 – Really? We just heard on a national television show that somebody would like to "hit that" with regards to Tina Fey? That's insulting, rude and incredibly amateurish. Never thought I'd say this, but where is Bruce Vilanch?
6:32 – What? I Mean What!? No, really, I mean What!?. This is the shock of the night. A show not even nominated for Best Drama could win the Emmy and it wouldn't even be more surprising. There was only one dead solid lock this evening, and that was Julianna Margulies winning for "The Good Wife". And instead she's upset by The Closer? Once again, just when it seems like the Emmys can't get any weirder with how they give out trophies, this happens.
6:36 – Wow, and that's two straight minutes of ripping NBC for the Leno debacle. Which network is this show on again?
6:38 – Huh? The writers of the specials get a spot on the big show and not the variety series? Does that seem backwards to anybody else?
6:39 – Well if there's one thing I'll remember about television in 2009-2010, it's how well-written the Tony Awards were. I'm so glad we got to see that award on the main show.
6:48 – Ricky Gervais at an awards show. Ricky Gervais brilliant comedy bit.  Complete with beer for all!  one of these days he's not going to be sublimely funny, but I don't know if I'll live to see it.
6:50 – I don't think anybody will forget the name Bucky Gunts anytime soon.
6:53 – I'm glad that the undeserving "Tonight Show with Conan O'Brien" didn't sneak in out of some sort of self-reflecting humor. And then we get a celebrity rehab joke. I guess they use all the good jokes on "The Daily Show".
7:04 – Extended break from the snark as it's impossible to make fun of somebody doing something charitable. Class all the way from George Clooney.
7:05 – It continues to astonish me that a movie about Georgia O'Keefe that starred Joan Allen and Jeremy Irons premiered on Lifetime of all places. This seems like the type of prestige picture that would be released in two theaters at Christmas for Oscar consideration, not dumped on a basic cable channel in the middle of the year.
7:07 – I have to say, I've officially reached the exhaustion point of this show where I was hoping Kathy Bates would win just so she wouldn't show up. It's a problem with this show that we always end up with an hour of categories nobody cares about while we wait around for the big prize. But at least we got to see Julia Ormond ramble for two minutes.
7:15 – How does HBO win more Emmys than everybody else every year? Well, you're looking at it – that's two for "Temple Grandin" so far. And I don't think it'll be the end of that run. At least Strathairn has finally won something for years of solid work and a classy acceptance speech to boot.
7:17 – This is my new least favorite tradition with awards shows: Having somebody sing live over the death montage. All it does is take away from the tribute to those who've passed away as we continually have to cut back to the singer. This moment should be about those who've passed on, not the performance.
7:21 – Yes, that was a very pretty song. But I'm still against the singing live. By my count Dennis Hopper won the death applause-o-meter. And David Wolper is a very fitting choice for the anchor position.
7:26 – Oh yes, that's another win for HBO. They just can't be touched in these movie and miniseries categories.
7:28 – Wow, how about the nominees in the Best Actress category? That is a murderer's row that could easily be on a similar roll call at the Oscars. And Claire Danes beats them all. And y'know why? Because she deserves it.
7:35 – "These next presenters really suck." Can we get the Twitter submissions back?
7:37 – Wow, "Temple Grandin" is running roughshot over the Emmys. This is like "Titanic" or "All About Eve" at this point.
7:38 – Ah, the Emmy loves its movie stars, and there's no way they were going to pass up Al Pacino here. Maybe he should make all his movies on HBO. Also, is it just me or does his hair seem incredibly desperate to get as far away from the top of his head as possible?
7:46 – "The outstanding tradition of long-form television" – for which we have two nominees. Might be time to combine this with the TV movie category, Academy.
7:48 – And it is "All About Eve". 15 nominations and XX wins. I feel like this an achievement that will end up very underrated since, y'know, nobody really cares about TV movies. And the moment with the real Temple Grandin was just sterling.
7:51 – Well, my "The Good Wife" as the savior of network television theory didn't quite work out as I'd expected – neither did the idea that cheers = wins as both "Breaking Bad" and "Lost" received bigger ovations in the room.  Still, the Emmys are the Emmys so giving the same show the same award again shouldn't be much of a surprise.  Still, I was so hoping for the "Breaking Bad" win.
7:57 – Yay! "Modern Family" locks up a very deserving Emmy after the best debut season for a comedy since "Arrest Development's" first season. The good news? This show is a bona fide hit and ABC should be able to figure out how to make it a bigger hit on the heels of this Emmy win. Couldn't have worked out better.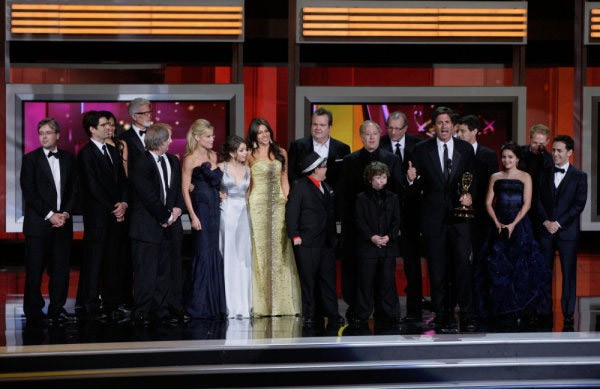 Final Thoughts:
For the most part, this was a year where I kept thinking, "Wow, they're getting this award right!" Particularly the moment when Aaron Paul sprung up to accept his much-deserved Emmy.
Of course, that couldn't happen forever because it wouldn't be the Emmys if it did so we had our Kyra Sedgwick wins and the like, but this was a night where Emmy came closer than ever to functioning as a show that awards excellence rather than last year's winners again.
As for the show, it was tight, brisk and entirely unremarkable. Jimmy Fallon wasn't bad, he just wasn't really present. And ultimately, that was probably a good choice for him. He kept the show moving and didn't get in the way in an attempt at humor.
Because that would have been quite painful.