Meet The 'Pretty Little Liars' Of ABC Family's Mysterious New Show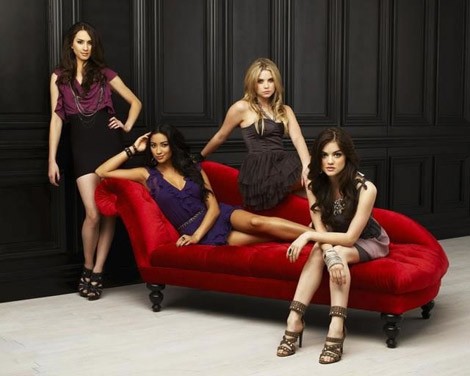 The title Pretty Little Liars suggests a sexy, scandalous show. If you've seen the billboards of the four young sexpots slinking around together, you know it looks like brave new territory for ABC Family. The show begins with the disappearance of Allison, leaving four teen girls to deal with the secrets surrounding her. Meet the young starlets of the mysterious new summer series.
Ashley Benson: "I play Hanna Marin and she is the queen bee of the school. When she was younger, she was the chubby girl who didn't know how to dress and didn't really know what to do with herself. Now she's transformed herself and she's the new queen bee. She struggles with an eating disorder because she wants to be perfect. So she's kind of insecure in a way and acts out to get attention and love. Then to everybody else she's like this perfect girl so she's fun to play.
Lucy Hale: "Aria is the most unique of the bunch. She's very mature for her age and very headstrong and knows what she wants. While she still makes bad decisions, she's a good girl at heart. She means well and she loves family more than anything. But then she's so cool and just laid back and wears whatever she wants, unlike anything I've ever played before."
Shay Mitchell: "My character is Emily Fields and she is, I guess you could say the good girl out of the group, the sweet one and extremely sensitive to this whole disappearance of somebody who she might have been developing some feelings for. She's discovering her self identity and her sexuality along with everything else that happens when you're growing up. So that's a little bit about Emily."
Troian Bellisario: "I play Spencer and she's the overachiever, she's perfect at everything she does and she comes from a family that puts so much pressure on her to be perfect and to get into the best Ivy League school and then go on to be the most successful businesswoman she can be and make so much money. She has never had anybody in her life say, 'What do you want to do and what do you like? And maybe that doesn't fit in with what your parents want' until she meets her sister's fiancé an he's the first person who says that to her and she kind of can't help herself."
Pretty Little Liars premieres June 8 on ABC Family.
More Pretty Little Liars Photos