Meet The Cast Of 'Community:' Joel McHale, Chevy Chase, Ken Jeong, More

At the Paley Center for Media in Beverly Hills, television fans lined up to get their first glimpse at NBC's new comedy,
Community
. The stars of the show previewed their first episode a week before it premiered. The show would become NBC's newest comedy hit when it debuted after The Office.
Joel McHale
leads a ragtag group of community college students in a Spanish study group, including the Spanish teacher who you'll meet in this week's episode. We met the cast as they prepared to unveil their show.
Joel McHale
- Jeff
The host of
The Soup
is now doing double duty on two shows. "It's busy, as you know," McHale said. "I don't respond to e-mails anymore. I don't call people back. I don't do housework anymore. I don't wash anything. My wife's like, 'I don't know who's going to do this.' Yeah, it's just wanting to see my kids more than anything."
Listen to Joel McHale full audio interview
Chevy Chase
- Pierce
The comedy legend has gotten used to his younger costars geeking out over his Saturday Night Live stories. "Oh, they're sick of me now," Chase joked. "The only Chevy Chase questions they ask are, 'When are you leaving?'"
Listen to Chevy Chas full audio interview
Ken Jeong
- Senor Chang
The newest cast member is trying to sneak some profanity past the censors.
Prison Break
got away with cono (with an ene). "Thank you for telling me that," Jeong said. "I did that as an improv last week and I was wondering if they would put that in. It's so funny. Fred, maybe I'm onto something. I did like three curse words en espanol and I was wondering if they would get through. I'll wait to see. Prison Break broke ground for me."
Listen to Ken Jeong full audio interview
Danny Pudi
- Abed
At the end of the first episode, Jeff suggested that Abed has Asperger's syndrome. Nobody has mentioned it since. "It's something that Jeff says and then right after that that, a character says, 'He's not equipped to diagnose that,'" Pudi said. "Maybe Dr. Ken Jeong is though because he is in fact a real doctor. Not Senor Chang. Actually Dr. Ken Jeong who plays Senor Chang might be able to."
Listen to Danny Pudi full audio interview
Donald Glover
- Troy
The former high school jock may have found common ground with the new teacher. "I think they're kind of close," Glover said. "I think he likes Troy because he kind of thinks he's the man. Troy thinks he's the man all the time so I think they kind of bond. Having Ken here now is like the best thing ever. He's just so funny, he's always on and every take is just craziness, insanity."
Listen to Donald Glove full audio interview
Community airs Thursday nights at 9:30 on NBC.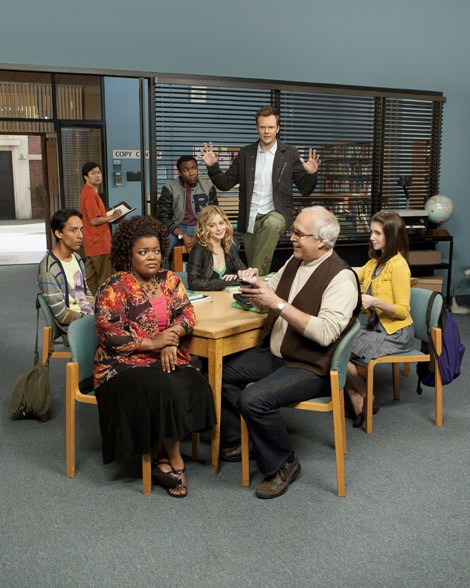 Community © NBC Universal, Inc.
Story/Interview by
Fred Topel
Starpulse contributing writer
(Starpulse in Hollywood)
: Every week, Hollywood's biggest stars are meeting in the hot spots and Starpulse is there.