Meet The Cast Of Acceptable.TV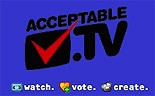 Demorge Brown
(
cast member
) was born in Texas, and raised in New York. Currently, he lives on a hilltop in the shadows of L.A.'s Dodger Stadium. He has written and acted with the Upright Citizens Brigade and The Groundlings. DeMorge can be seen in the Channel 101 show, "Yacht Rock," as well as "Minor Accomplishments," "
According to Jim
" and "
Punk'd
." If you listen closely, you'll hear him mumbling in "
Family Guy
" and "
American Dad
." His love of horses and soccer has brought him to the cast of VH1's Acceptable.TV.
Eric Falconer
(
co-executive producer, writer & cast member
) 30, hails from Watertown, MA and he likes baseball and buffalo wings. His writing credits include "
It's Always Sunny in Philadelphia
," "
The Sarah Silverman Program
" and he is currently Co-Executive Producer of VH1's "Acceptable.TV."
Jennifer Flack
(
cast member
) graduated from the University of Wisconsin with a BA in theatre in 2001. She's spent five years in Los Angeles doing shows at the Improv Olympic West, ComedySportz and making video shorts for Channel 101. She is a fan of music, movies, and life in general. She is now a cast member on Acceptable.TV, and couldn't be happier.
Drew Hancock
(
director, writer & cast member
) 27, was born and raised in Omaha, NE. Contrary to popular belief, he is not very good at basketball. In addition to VH1's "Acceptable.TV," Drew has directed shorts for Tenacious D, the MTV Video Music Awards, Converse Shoes and singer/songwriter Greg Laswell. His favorite movie is Die Hard.
Jen Kirkman
(
cast member
) is originally from Boston, MA. She's been performing stand-up comedy for ten years, and has appeared on Comedy Central's
Premium Blend
and NBC's
Late Friday
. Jen's adorable voice can be heard in the Cartoon Network show, "Home Movies." She performs regularly in Los Angeles and has just released her first comedy album entitled, "Self Help."
Ryan Nagata
(
director
) grew up in Santa Monica, CA where he became very interested in making movies. In addition to shooting and editing his own shorts, he also delights in doing special effects makeup, building models and amateur pyrotechnics, constructing sets and props, sewing elaborate costumes, and doing computer effects on his primitive home system. Ryan is a part of the graduate film production program at USC and wants to give them mad props.
Ryan Ridley
(
writer & cast member
) was born and raised in the suburbs of Detroit, Michigan. After dropping out of college, he moved to Chicago for four years where he performed standup comedy and made short films. He moved to Los Angeles to become a part of Channel 101 where he continued to make short videos for the monthly competition and eventually worked his way up to a job on "Acceptable.TV." Besides
Jack Black
he is the only Jew involved in the production.
Justin Roiland
(
writer & animation producer/director
) Creator of many bizarre animated and live action short films including "House of Cosbys" was born and raised in Clinton, Iowa. His mother and father were divorced when Justin was only 13, and he was forced to move in with his elderly grandmother. His grandmother was very poor and Justin had to work the corn fields in order to support her. Meanwhile, Justins parents had worked hard and became network executives at VH1. Many years later, When Justin's estranged parents learned of his hard work in the corn fields, they rewarded him with a job on VH1's "Acceptable.TV". Justin is a writer on the show, an actor/ voice actor on the show, and most importantly, the animation producer/ director.
Romanski
(
writer & cast member
) 28, hails from Nashua, New Hampshire and graduated from Emerson College in 2000 with a degree in Muktah. His credits include "
South Park
," "It's Always Sunny In Philadelphia," "The Sarah Silverman Program," and he is currently a writer/actor on VH1's "Acceptable.TV." In addition, Chris and his writing partner are writing a movie for Jack Black. In his spare time Chris likes to drink, smoke and cheat on his girlfriend. Just kidding?
JD Ryznar
(
writer & cast member
) was born and raised in Muskegon, MI. He graduated from the University of Michigan, where he won the Prestigious Hopwood Award for excellence in writing. In 2005, he co-created, wrote, directed and starred in the viral internet sensation, "Yacht Rock" for Channel 101. Along with "Acceptable TV," J.D. is also penning the
Jason Lee
vehicle "Krater" for Warner Brothers.
Click here for more on Acceptable.TV