Meet 'Super 8' Star Riley Griffiths
A week from today, J.J Abrams' highly anticipated flick Super 8 hits theaters. To get you ready for the 1979-set thriller, I sat down with one of the stars, 14-year-old Riley Griffiths (who plays Charles in the film) to talk about what it's like to tackle such a big project at such a young age.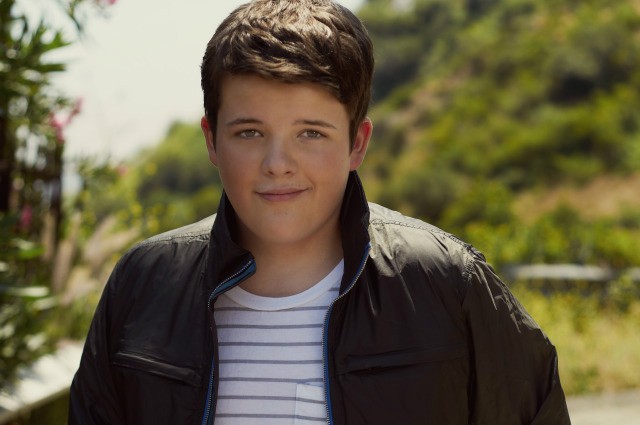 Let's get the obvious question out of the way: tell me about Charles, your character in the film.
Charles is kind of the group leader of all the kids [and] Joe's best friend. He's the director of the zombie movie within the movie. He's very bossy, very production-value crazed. I actually had made movies when I was little. We'd stage swordfights and squirt ketchup.
How did you come into the part?
My agent sent me the email, so I sent him a tape. About three months went by and I thought I didn't get it - then they called me in for a callback.
Was it daunting to have such a major movie as your first big credit?
I just feel so blessed. It couldn't have been a better experience with two movie geniuses like J.J. Abrams and Steven Spielberg. I can't wait for it to come out.
What was it like to film such a big production?
It was a very big set, but they were all so inviting. J.J. just took Joel [Courtney] and us under his wing and taught us so much about the movie-making process. The crew, they were so nice and they taught us about how to set up cameras and things like that.
What's the most memorable moment that you're going to take away from the project?
Probably the moment when I saw the movie for the first time. J.J was in the room and so was [producer] Bryan Burk and all the kids. It was so overwhelming to know just how hard everyone worked on this. The crew didn't sleep. I was so happy to see that everybody worked so hard on something. It was so amazing.

Give me your story. What drew you to acting? Are you considering this as a career, or are there other options that interest you?
I was in first grade and we were doing a school play. I got [a] role in A Midsummer Night's Dream. I went up on stage and it was just a blast. Ever since, I knew acting was what I wanted to do. I love to entertain people and to become different people. You become a firefighter or a kid from 1979. I definitely want to be an actor for the rest of my life - a very diverse actor like  Tom Cruise or Tom Hanks. They can go from comedy to drama.
How do you balance starting an acting career without shortchanging your normal childhood? You're heading into some pretty important years in your life.
It's easy. You stay yourself. [That was] one of J.J.'s biggest things; he kind of brought all these kids into Hollywood. I haven't wrapped my head around any of this. I kind of just fell head over heels into all of this. I think you've just got to believe in yourself.
Where do you go from here? Do you have future projects lined up?
I want to go to USC for film school. I have some scripts I'm reading, some meetings with directors and producers. I definitely have things in the works, but nothing official.

If you could have any role you wanted, what would it be?
Anything that has a great script and a great director. It'd be really cool to work with Tom Cruise or Tom Hanks, because they're some of the greatest actors. To win an Oscar would be just amazing. I've thought of people I would thank in my head.
What TV shows do you watch? What do you do when you're not acting?

I watch Rob Dyrdek's Fantasy Factory on MTV, or Penguins of Madagascar. I play all sports, pretty much - football, basketball, baseball. I love to go snowboarding with my friends. I love to mountain bike.
My thanks to Riley Griffiths for this interview! Check him out when Super 8 arrives in theaters next Friday.